Lightning Mcqueen Cake
by Diane
(Chattanooga, TN)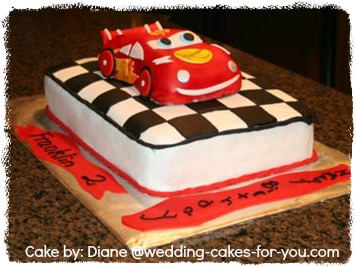 At the Checkered Flag
The cake is a 2 layer 12 x 18 with a hand carved Lightning Mcqueen on top. It is yellow and chocolate layers, iced in buttercream, covered in fondant. Lightning is iced in buttercream also covered in fondant. All decorations are cut by hand (no cutters available).


I found some really good pictures of Lightning and printed those, then cut out the lightning bolts and made templates, same for numbers. It is airbrushed...started out covered in white fondant. I have found its cheaper to use white then airbrush the color you want.
I use fond-x fondant, it is soooo much easier to work with, but that's just my opinion. I have gotten a lot of compliments on the way it tastes as well.
The lightning bolts and numbers I started with white fondant, airbrushed yellow, then with a few touches of orange then red airbrush, in order to make it look like flames. All in all I think he turned out very well for just the 2nd carved design I have ever done.
Thanks for looking....I would love to be able to do this full time, and with any luck, that could happen soon. Take care.
Dianne Thanks for entering your awesome Lightning McQueen Cake. It's a very cool kids birthday cake. Good luck on starting a decorating business someday. Hope you get lots of comments and ratings!

Comments
zoom
by: Anonymous
Great job...its tough making a car shaped cake! We just tried to make one this week...it was ok but yours is way better!
Lightning Mcqueen
by: Anonymous
Great looking cake. I would buy this cake, It looks like a real toy, Let me know when you open your bakery. Nice job!!
Lightning Mcqueen Cake
by: Anonymous
Great looking cake. Any child would love to get this for their birthday. It looks like a real toy. Nice job!!
Video from Veena's Art Of Cakes
Veena shows us how she makes her Lightening McQueen cake.