tulip wedding cake
by Mariah Keehn
(North Judson,Indiana ,US)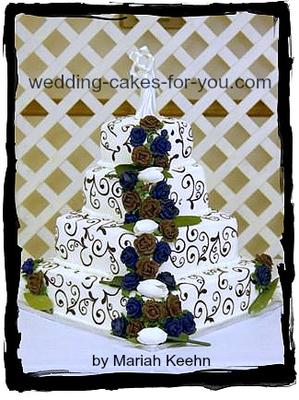 My Tulip Wedding Cake...
This is the first wedding cake I have ever made!
I have been making cakes for four years and started making cakes for family and friends. I liked making cakes so I took four cake decorating classes and found out that I really loved it. I love seeing peoples faces when they see the cakes I have made for them.
Wedding Cake Flavors
Many different flavors for one occasion.
This wedding cake is a four tier with buttercream frosting. The bottom and top tier is a yellow cake, he second tier from the bottom is red velvet and the third tier was lemon.
Fondant Flowers and Buttercream Roses
I made tulips and tulip leaves out of fondant, and dark blue and brown roses out of buttercream icing. I also had a beautiful wedding cake figurine to finish it off.
My Technique For Making Fondant Tulips
To make these tulips I used a small dowel rod and I shaped a small ball and used pipping gel to attach to the dowel rod. Then I added some stamens so that it would actually look like a flower.
Fondant Tulips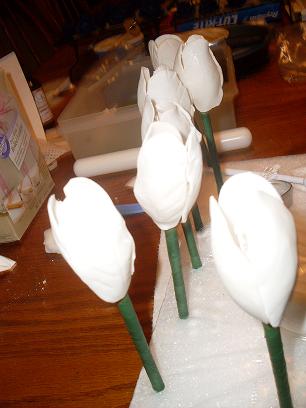 I used store bought stamens instead of making my own because it looked a lot better, more professional looking I think. Then I cut oval shaped petals and veined them and set them on a tbsp. to dry. I placed them on a tbsp because it gave me the curve and so that the petals would be curved when they dried. I let them dry overnight and then placed them together with pipping gel around the small ball.
I then set them on their sides to dry, because the petals might come off if you just set it up right away. So leave them on the side to dry.
I would like to thanks my parents for staying up til 3:00 am trying to get the stenciling done on this wedding cake, it took a lot of hard work but it paid off.
My cake blog