Monkey Cake For Baby!
by Holly Smith
(Santa Rosa, CA)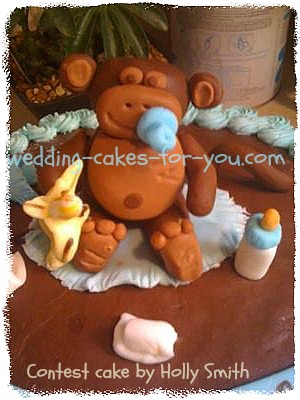 Bananas For Baby!
CONGRATULATIONS HOLLY!
The combination of your cake story with tips, the comments you received and your cake decoration have won you the first prize at cake decorating contest 13. Your Flirty Apron is on it's way to you.!
This is a cake I made for my friends baby shower. It is a white 12" round with Bavarian cream filling and chocolate buttercream frosting. What inspired the design of this cake was the Mother-to-be. She wanted brown and blue and her theme was monkeys!

I started just coloring and molding my fondant and pictured what I wanted. I designed the monkey first without using a mold. I then got the idea of this big "yabba-dabba-doo" feet from the Flintstones and my husband. He has wide and very flat feet that we call Barney Rubble feet! I made flat blocks and hand painted the baby-to-be's name using a paint brush.

I poured some of my warm brown icing coloring gel (Wilton) onto a plate. I then dipped my brush into water to thin it out and mix. Then I just free handed the lettering, designing font as I went.

I created his binky from fondant then decided I wanted it side-ways like he is a silly monkey. Something was missing. Then I thought BANANAS!!!! I didn't know if I could get the color right or shape because I had never done one before ( or a monkey!!). Here is how I did bananas:

1) I took a bit of white fondant, about the size of a large round gumball. I added a few dots of Wilton Ivory paste color gel and kneaded it in.

2) Then I added a drop of wilton yellow and kneaded that.

3) I rolled fondant into a ball. When ball was perfect shape and smooth, I rolled into sausage shape. As I was rolling, I tried to taper the top and curve into the shape of a bannana. I used some white fondant to shape same way into a peeled banana and then added one of the bananas under it and peeled it just forming with my hands some strips looking like peeling hanging down and plunked banana into middle of it. I added to monkey's hand with tooth picks.

I rolled out strips of blue fondant as if to make a bow and then decided to gather it to a ruffle strip and try as boarder! Something was missing, so i cut out some brown fondant polka dots using the round side of my writing icing tip! Then I just added a zig-zag blue boarder on top and it finally brought it together.

I placed some bananas around, a fondant blanket that I just grabbed the center of like tissue paper for a gift bag and laid it. I added a fondant diaper, and made a fondant baby bottle. With the bottle, I just did like the banana, but left it sausage shaped and flattened the bottom and rolled on my mat to flatten the sides to create the hexagon look. I rolled the same blue as boarder into the bottle cap and scored edges with my shell looking fondant tool.

I attached it to top of bottle securing with a small piece of uncooked spaghetti! Then I took a bead size of white fondant and tinted it with Wilton Ivory gel color till it resembled the color of a rubber nipple to me. Rolled into ball, and stretched out end to nipple shape and attached with spaghetti.

I had the idea of color and monkey in my head, but I am the kind that creates as I go along. I never know what I am going to end up with! It is my creative outlet and I enjoy it sooo much! I name each of my fondant characters as I'm creating them!!

I am trying to give them personality so they shine it out and not just be a "flat" piece of dough plunked on my cakes. I am a very whimsical person. I cannot WAIT to get it done and see what my blank canvas comes alive with!! By the way, this monkey's name was Banana Breath!

I love it Holly, Thank you for a great entry with loads of tips and a fun story to go along with it. I renamed it for the search engines. Hope you don't mind.


Comments
Average Rating 5 stars

Dec 30, 2011
Rating
5 stars Thanks
by: zach johnson
Thank you for my birthday cake it was good. The monkey looks neat.
Zach

Dec 30, 2011
Rating
5 stars Thank you!!
by: Holly Smith
Thank you friends for your kind and supporting comments!! You guys keep my business going by coming back to me!!!! hugs!

Dec 30, 2011
Rating
5 stars Best Cakes Ever!
by: Jeanette Meyer
"You have the most delicious cakes that I have EVER tasted in my life! I do not know what you put in them, or how you do it."

Dec 30, 2011
Rating
5 stars SUPERB!
by: Jessica
Delicious
Fun
Exciting
Creative
MOIST!
Devilishly Sinful!

Dec 30, 2011
Rating
5 stars love it!!!
by: Alisha Khan
This cake is adorable Holly! Good job! Keep up the make making ;-)

Adorable monkey cake
by: Mindy

I saw this cake in person and it was SO CUTE! It tasted just as good as it looks. The fondant around the bottom looked very professional. The small details like the bananas were great and of course, the monkey was the star of the show. Holly's cakes always look great but I think we got the best for the baby shower.

Return to Cake Decorating Contest 1.
This article was printed from Wedding-Cakes-For-You.com