Pumpkin Cake Recipe


This is the finest gourmet pumpkin cake recipe. It's so perfect for a Buche De Noel, which is what I used it for. Not only is it super moist, it's packed with healthy pumpkin puree and oodles of spices, including cinnamon, ginger and nutmeg. Finely chopped nuts are added to the pan before pouring in the batter, which gives the soft cake a contrasting crunch. This is a truly amazing sponge cake recipe. 

Pretty as a Picture
They say variety is the spice of life and I am subscribing to that.  Searching for new and exciting recipes to add to Wedding Cakes For You is one of my biggest goals for the website. This recipe caught my eye becasue I was looking for a Christmas dessert to add to the holiday recipes.  I tweaked it to fit my personal style and taste of course. 
Moist, Fragrant & Spiced to Perfection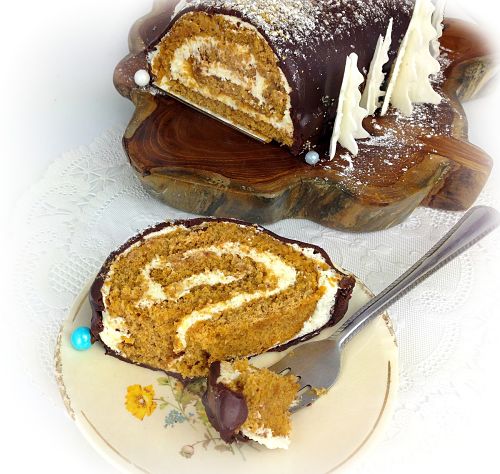 Spicy and Delicious
This incredible pumpkin cake recipe is a new family favorite at Christmas time.
The Best Pumpkin Cake Recipe Video


If you have never made a sponge cake, yule log or jelly roll before....no worries...just follow my step-by-step instructions in this video. Or follow the instructions below. 
Link to the video on YouTube
Spiced Pumpkin Cake Recipe

Preheat oven 375-400

Makes one 15 1/2 x 10 or 11 sheet layer
Ingredients:
3 Grade A large eggs

1 cup granulated sugar

3/4 cup canned pumpkin

1 Tablespoon fresh squeezed lemon juice

3/4 teaspoon finely grated lemon zest

3/4 cup sifted cake flour

1 teaspoon baking powder

2 teaspoons cinnamon

1 teaspoon ginger

1/2 teaspoon nutmeg

1/2 teaspoon salt

1/2 cup finely chopped walnuts

Confectionery sugar for dusting
Directions:
Prepare your pans by greasing the bottom and sides with a layer of shortening or spray such as Pam. Dust the pan with flour and tap out the excess. Lay a piece of waxed pr parchment paper cut to fit into the pan. Sprinkle or spread the nuts onto the pan. Beat the eggs for 5 minutes adding the sugar a little at a time. The mixture will increase in volume and be very light in color. Fold in the pumpkin, lemon juice and zest. Sift the flour, spices and salt together onto a piece of waxed paper or a small bowl and fold into the pumpkin mixture. Pour the batter into the pan over the nuts and carefully spread it out to the edges. Bake for 8-10 minutes or until the top springs back when touched. Cool for 5 minutes.
Dust a clean kitchen towel with confectionery sugar. Flip the cake onto the towel and peel off the waxed paper. roll the cake and the towel and leave to cool. 

Filling  lemon cream cheese frosting. 
Unroll the cooled cake and spread with the cream cheese filling. Re-roll the cake without the towel and transfer the cake carefully to a serving plate or onto a piece of pre cut cardboard. Finish your pumpkin cake with a simple dusting of the powdered sugar frost with your favorite icing. 
Lorelie's Best 


My BEST recipes can be found in one convenient e-book. All recipes are ...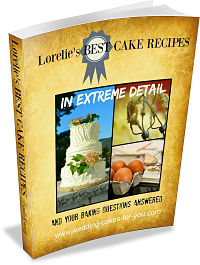 Click to learn more!
in grams, ounces and cups. 
multiplied for large scale baking
charts, ideas and suggestions are included
Just follow this link to learn more. 
Another Amazing Pumpkin Cake Recipe 
Follow the link to the video tutorial for another  delicious rich Pumpkin Spice Cake. This cake was made using the recipe which you can find here.
This article was printed from Wedding-Cakes-For-You.com