Luxurious Chocolate Orange Cake

Introducing the Chocolate Orange Cake. Let's start with a few VERY SWEET words about this amazing recipe.
"This cake is out of control!!!!! I don't even like chocolate and orange and almost ate the entire huge slice. WOW!!!....Well done... as usual." ~Shannon Goldberg~
Video of the Chocolate Orange Cake Recipe

"I just wanted to write to you to thank you for your recipe of the chocolate orange cake. It was absolutely amazing and possibly the best cake I have ever tasted! I can't thank you enough." ~Jessica~ Australia
Chocolate Orange Cake Recipe
The most wonderful thing about this chocolate layer cake is how easy it is to prepare. Not to mention the rich and powerful flavor sensation. Listed below are the ingredients for this delicious cake. Please follow the video for the method.
Fills two 9 inch pans or three 8 inch pans
Ingredients 
2 cups sifted cake flour
2 cups sugar
1/2 cup cocoa
1/2 tsp salt
1 tsp baking powder
1/2 cup room temp milk
1/4 cup oil
1 tsp vanilla
zest of one orange
2 large eggs at room temp
juice of one orange plus enough boiling water to make 1 cup
2 ounces unsweetened chocolate 
Method
Sift the dry ingredients together by stirring them all together with your mixer on low speed. Add the milk, oil, vanilla, zest and eggs. Increase the mixer speed to medium and beat for 2 minutes. Scrape the bowl with a spatula and mix for a few more seconds. Mix together the juice and boiling water with the melted chocolate. Add it to the mixture and mix on low until blended. Fill your prepared pans. Place the pans into a 400 degree oven and bake for 15 - 20 minutes or until the tops spring back when touched.
Cake Frosting Ideas for the chocolate orange cake
Included in the video instruction is a light chocolate orange birthday cake icing that pairs well with the dark rich layers.
Be creative and choose other fillings and icings to go with this cake. Here are a few ideas for you...
Whipped cream flavored with orange oil or extract and the zest (outer skin of the fruit. Sweeten with confectioner's sugar
Chocolate ganache, if you love chocolate
Vanilla buttercream is a great choice. Vanilla is a nice contrast.
Decorate the top of with raspberries or use them in the filling with the icing or cream.
Dip orange or Clementine slices in melted semi sweet chocolate.
Drizzle melted chocolate with a fork onto the top like I did in the video. It makes for a nice presentation and added richness.
This cake has a sophisticated flavor for an adult party, but kids would love it as well. In the video I show a two layer cake using 9 inch pans. You use 8 inch pans to make three layers of lusciousness.
Use this as a wedding cake or for any special occasion. You will have to multiply the recipe many times for a wedding cake but I think it would be well worth the effort.
I hope you like this rich chocolate cake recipe as much as I do. It's a great addition to your repertoire and you can use it for  any occasion. Thanks for visiting my website and please let me know what you think or what you would like to see. 

---
This cake won a prize!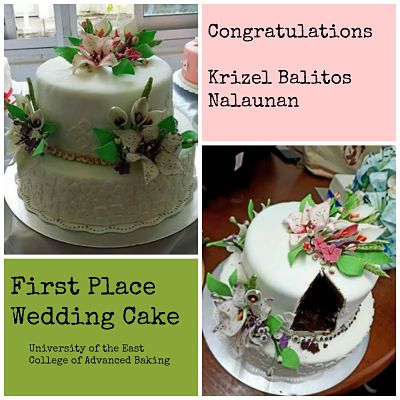 Krizel (a website reader and Facebook follower) won first place in her final exam in cooking school. She used this amazing recipe but replaced the cake flour with all purpose to create her prize winning wedding cake.  
"Thank you for the recipes and suggestions. I did it and I'm the best in wedding cake in my class"
~Krizel Balitos Nalaunan ~ Manilla, Philippines
All about Oranges 
This article was printed from Wedding-Cakes-For-You.com