Spice Cake Recipe  

The spice cake recipe with five spices is super delicious especially when it's combined with irresistible browned butter frosting.

Here is my version of a spice cake filled with browned butter frosting topped with buttercream.
 This recipe make three eight inch layers, three six inch layers and a dozen yummy cupcakes.
It makes a beautiful recipe for a winter wedding cake. 

Spice Cake Recipe Video


Spice Cake Recipe Written
Preheat oven to 335-350 degrees (depending on your oven) I use 325 for my convection oven setting. Here is a list and amounts of the ingredients you will need. 

Ingredients
6 cups sifted then measured all-purpose flour
2 tablespoons baking powder
1 teaspoon salt
2 cups butter
4 cups granulated sugar
10 eggs
2  1/2 cups milk
2  1/2 teaspoons vanilla
3 teaspoons ground cinnamon
1 teaspoon nutmeg
1 teaspoon allspice
1 teaspoon ginger
1 teaspoon cloves
2 tablespoons cocoa
Method
Measure all of your ingredients before starting. Mix together flour, baking powder, salt, spices and cocoa and set aside

Next place the room temperature butter into your mixing bowl and slowly add the sugar while mixing on low.  Scrape down the bowl and beater and mix at high speed for about 2 minutes.
In the meantime crack all of the eggs into a bowl. Your eggs should be at room temperature.
Add two eggs at a time, mixing after each addition at medium high speed occasionally scraping the bowl.
Add the dry ingredients alternately with the milk and vanilla starting and ending with the dry. Scrape down your bowl a couple of times throughout and mix for two minutes at medium high speed.
Pour the batter into the prepared pans and bake for about 35 minutes or until the top of the cakes spring back when pressed. 
Remove your cakes from the pans and cool completely. Wrap them in plastic and chill or freeze the layers.
Browned Butter Frosting
In the meantime make your browned butter frosting. In the video I make a double batch. You will need a triple batch to fill the two tiers if you decide to go with three layer cakes. This is the ingredients for a single batch.

Ingredients
4 ounces softened cream: 4 ounces: 113 grams
1 stick unsalted butter: 4 ounces: 113 grams
1 teaspoon vanilla
1/2 teaspoon salt
1 cup confectioner's sugar
Put the butter in a pan over medium heat and bring to a boil. Stir until you see the butter start to brown. Shut the burner off and remove the pan from the burner. Pour the melted butter into a casserole or other type of dish.

Make sure you get all the little brown bits. Refrigerate the butter until it becomes semi firm. While the butter is in the fridge start to beat the softened cream cheese. 
Add it to the cream cheese and mix well. Scrape down the bowl. Now add the vanilla the salt and the confectioner's sugar. 
Mix well and enjoy. Here is what the frosting looks like piped onto spiced cupcakes. 
Build Your Skills and Confidence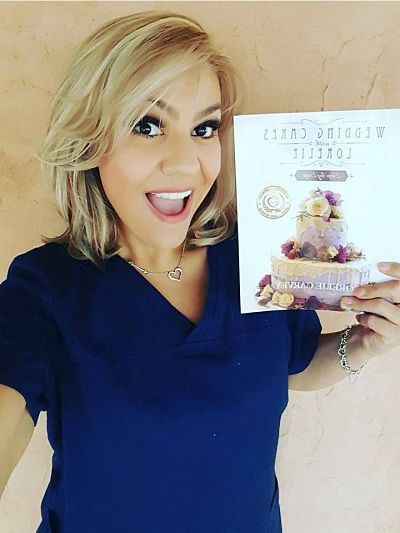 Click on the picture of Roxie to see how Wedding Cakes with Lorelie Step-by-Step will help you build confidence to create beautiful cakes and cherished memories. 
Impress your friends, family and customers with the same tried and true recipes that I have used with great success since 1985. The book comes with perks...
A membership to our Cake Crew on Facebook 
A special page on this website just for you 
Ultimate Guide to Herbs and Spices 
This article was printed from Wedding-Cakes-For-You.com