The Best Carrot Cake Recipe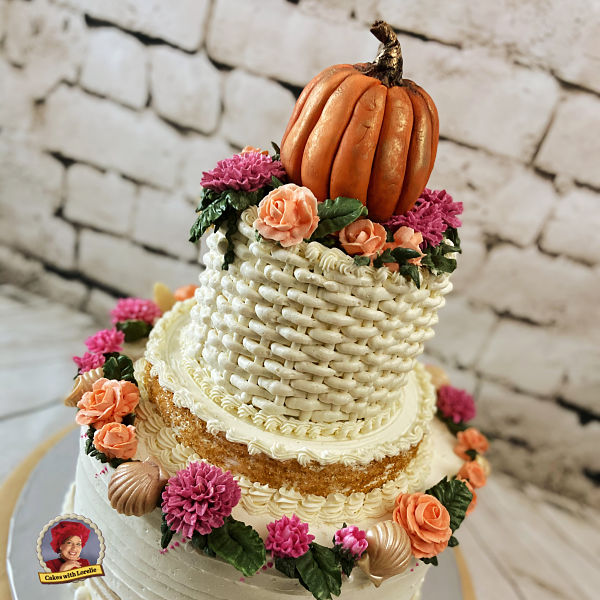 This is the VERY best carrot cake recipe. A delectable combination of Cinnamon spice, fresh pureed carrots, chopped walnuts, and shredded coconut dotted with pineapple jewels. This is an old time favorite and is fantastic with the delightful lemon cream cheese frosting.  
This incredible carrot cake has been our family favorite and a #1 choice of brides for many years.  It originated from "The Silver Palate" which was a long standing gourmet and catering shop in the heart of New York City. 
Simply put it is the most amazing and unique carrot cake recipe that can't be beat. All NEW Gluten Free version is now available too.
The Best Carrot Cake Recipe Video

If you have never made one of these types of cakes...no worries...just follow my step-by-step instructions in this video. Or follow the instructions below. 
Best Carrot Cake Recipe

Preheat oven 335-350. Cups of batter 8. Makes three 8 or 9 inch layers 

Ingredients
3 cups sifted (and then measured) all-purpose flour

3 cups granulated sugar

1 teaspoon salt

1 Tablespoon baking soda

1 Tablespoon Cinnamon

1 ½ cups corn oil

4 eggs: Grade A Large

1 Tablespoon vanilla extract

1 ½ cups chopped walnuts (Process the walnuts in a food processor if 

possible. Be careful not to over process them or they will be more like a paste)

1 ½ cups shredded coconut

1 1/3 cups cooked and pureed carrots (process the cooked carrots in a food processor or blender)

3/4 cups crushed and drained pineapple
Method
For this recipe start by boiling  1 and 1/2 lbs. of raw carrots and then processing them into a puree. Measure the puree 1 1/3  cups.  Next mix together all of the dry ingredients. Then add oil eggs and vanilla, beat well, scraping the sides of the bowl a couple of times. Fold in the carrots, pineapple, coconut, and walnuts. Divide the batter evenly between prepared pans. Smooth the batter level, then spread it slightly from the center to the edges. The baking time will vary depending on your oven. Bake in the preheated oven for 30-35 minutes, or just until the tops are springy or a cake tester comes out clean.
Cool the cakes in their pans on a rack for 10 minutes. Invert the cakes onto racks and cool completely. Fill and frost with lemon cream cheese frosting. 
Build Your Skills and Confidence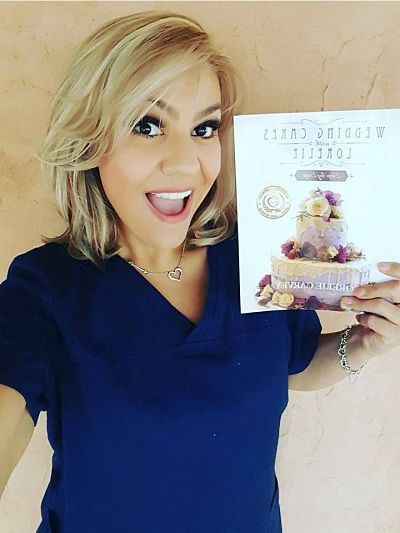 Click on the picture of Roxie to see how Wedding Cakes with Lorelie Step-by-Step will help you build confidence to create beautiful cakes and cherished memories. 
Impress your friends, family and customers with the same tried and true recipes that I have used with great success since 1985. The book comes with perks...
A membership to our Cake Crew on Facebook 
A special page on this website just for you 
A Variation by Helga Moldanado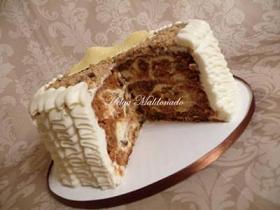 Hi, Lorelie

"I just wanted to share with you the Father's Day Cake that I made. It was so delicious and everyone loves it. I made your best carrot cake recipe and the cheesecake both in one. It was a rich, moist and delicious Carrot Cake Cheesecake. Like a piece of heaven. It will be my go to recipe...
I decorated it with simple ruffles, because I wanted to have a simple and elegant look. Hope everyone likes it..!! Thank you so much for sharing your amazing recipes with us". 

~Helga Maldonado~ The Cake Insider 
To make a Pumpkin cake...substitute pumpkin puree for the carrot and add a small pinch of ginger and 1/4 tsp allspice. 
This article was printed from Wedding-Cakes-For-You.com