Lemon Cake Recipes
These lemon cake recipes are luscious! You have free access to my best wedding cake recipes here. Take advantage of it :-)

I'm giving away my best on this website and in addition I have added a luscious Limoncello pound cake recipe at the bottom of the page with a video.
Ready to share all of my cake baking and decorating tips and tricks...starting with...  

The Best

This recipe is one of my all time favorites. It is an old fashioned 1-2-3-4 cake. 
With a few citrus additions... it becomes one of the best lemon cake recipes.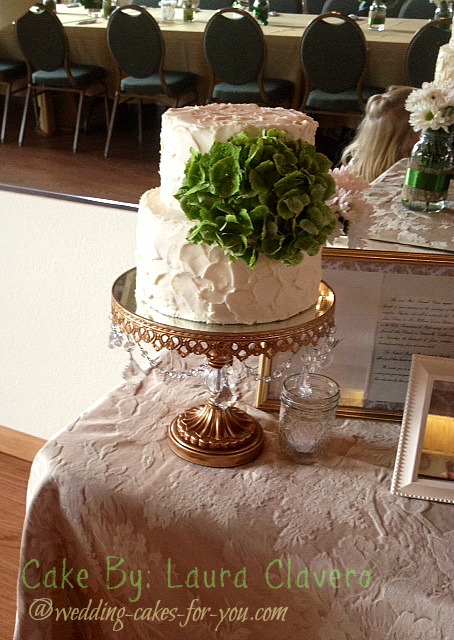 Luscious Lemon Cake
"I had never made a lemon cake and had not worked with fruit filling. I tried the lemon cake recipe on your website and it is fantastic! Thank you again for all of your help!"

~Laura Clavero~
Lemon Cake Recipe 
A Yellow Ombre design seemed like the perfect decoration for a Luscious Lemon Cake

Lemon zest is added to the batter.
The cake is sprinkled with a sugary lemon syrup for added flavor and moistness.
The cake is filled with fresh home made English lemon curd 
And the buttercream used to ice the cake is flavored with lemon zest and or English lemon curd.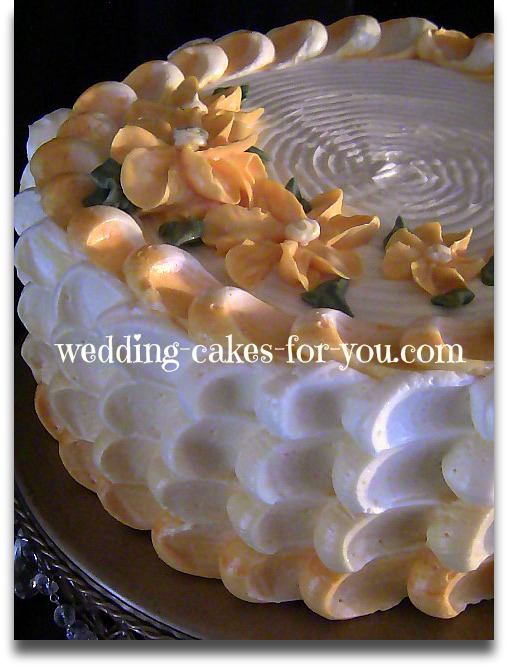 Preheat oven to 350 degrees

Ingredients
Two 8 or 9 inch pans
Ingredients
3 cups sifted all-purpose flour
1 Tablespoon baking powder
1/2 teaspoon salt
grated zest of two lemons
1 cup unsalted butter (2 sticks at room temperature)
2 cups granulated sugar
4 eggs (separated)
1 cup milk
1 teaspoon vanilla, almond, or lemon extract

Instructions
Sift together flour, baking powder, and salt. Set aside.

In the large bowl of an electric mixer beat the butter until soft and smooth. Add the sugar and beat until light and smooth. Add egg yolks, one at a time, beating after each addition. Stop the mixer and scrape down the sides of the bowl and the beaters several times.

With the mixer on low speed, alternately add the flour mixture and milk, beginning and ending with flour. Stir in the vanilla. At this point you may add flavoring (lemon zest) touches if desired.

In another bowl, with a clean beater, beat the egg whites until stiff but not dry. Stir about 1/2 cup of whites into the batter to lighten it, then fold in remaining whites in several additions.

Divide the batter evenly between the pans. Smooth the batter level, then spread it slightly from the center to the edges.

Bake in the preheated oven for 30-35 minutes, or just until the tops are springy or a cake tester comes out clean.

Cool the cakes in their pans on a rack for 10 minutes. Invert them onto racks.

Lemon Syrup - 1/4 cup of sugar mixed with the juice and zest of 1 lemon. After the cakes have cooled use a pastry brush to paint it on to the cakes. I use it inside the layers and around the entire cake, tops and sides.  (you may have to double or triple this recipe depending on what size cakes you are making.)

Lemon buttercream - simply add English lemon curd to taste to your buttercream for an amzingly delightful frosting.

---
Another Great Lemon Cake Recipe

Follow the recipe and directions in the video below, which I put together for you.
You can use the Limoncello to soak any of the other recipes here or on this website. It is especially good used in the icing and then poured over a cake. This is sooooo good and would make a nice hostess gift or for a Christmas present. YUMMY!

Link to the video on YouTube

The Perfect Filling and Frosting
For A Lemon Cake

Back to Main Cake Recipes Page

This article was printed from Wedding-Cakes-For-You.com