You are about to discover the simple deliciousness of the Confetti Cake Recipe. It's also referred to as a funfetti cake. This recipe is made using any white or yellow cake with the addition of a large dose of sprinkles. Toss them in and fold during the final step.  

The best place to find confetti or sprinkles is your local grocery store near the ice cream and ice cream cones in the frozen department. After searching high and low I found this to be the best place to get the type and size container I was looking for.
 Using a variety of sprinkles, including Jimmies, which are the type that you see on ice cream cones turned out to be the best combination.
For this recipe I used 1/3 cup, but feel free to add more or less. You will be adding them at the very end and folding them gently into the mixture. If you are too rough or if you mix it too vigorously the little tiny candies will melt into the batter. 
NOTE: There will be some melting, don't worry, it still looks very pretty after it bakes. What I love about this recipe is the slightly crunchy texture that is produced by the confetti.
The confetti cake works for every occasion. Discover, as I did,  how perfect this is for a birthday or wedding celebration. You might someday receive a request for it from an adventurous bride and groom.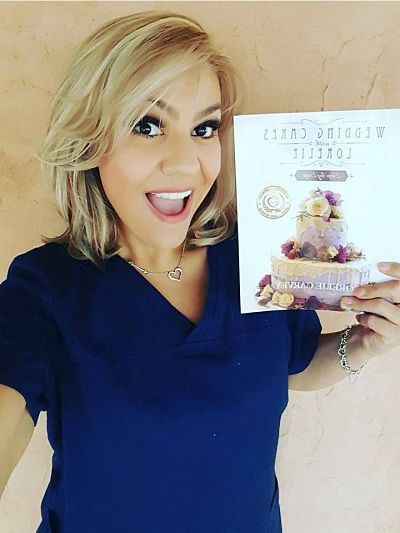 Click on the picture of Roxie to see how Wedding Cakes with Lorelie Step-by-Step will help you build confidence to create beautiful cakes and cherished memories. 
Impress your friends, family and customers with the same tried and true recipes that I have used with great success since 1985. The book comes with perks...
A membership to our Cake Crew on Facebook 
A special page on this website just for you