Gourmet Bourbon Pecan Cake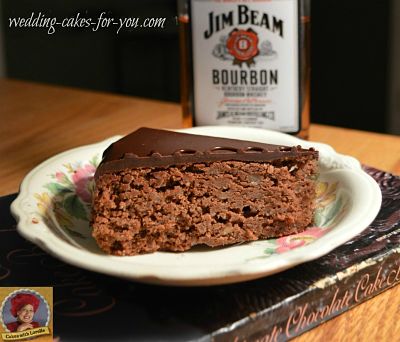 This gourmet bourbon pecan cake recipe is so strikingly delicious it will please even the most hard core epicurean.  It was a smash hit with all my tasters. 
This recipe makes one 8 or 9 inch layer and is finished off with a glazing of warm chocolate ganache.
"Oh, my goodness Lorelie, the Bourbon Pecan Cake is spectacular"
~Dolores Matzen~
"Stunning and Exquisite, WOW!"
~Scott Carvey~
Video Instructions For The Bourbon Pecan Cake
Bake the layer for about 25 minutes or until a toothpick stuck into the center comes out clean. I found that the cake needed more than 25 minutes in my oven. This is not your ordinary fluffy cake, in fact there are no rising agents. Any lightness is due to the egg whites and the egg yolks which are beaten with sugar and folded into the batter.
WARNING: It may not look pretty when it comes out of the oven (You will see that in the video presentation.) Don't worry, your cake is just fine once you coat it with the unbelievably rich chocolate ganache, your cake will be gorgeous.
Bourbon Pecan Cake Recipe
Ingredients
Makes enough batter to fill one 8 or 9 inch pan
4 ounces of bittersweet chocolate (I use Ghirardelli) 

1/2 cup (4 ounces) unsalted butter

4-6 Tablespoons of Bourbon

3 eggs separated

2/3 cups granulated sugar (split)

2/3 cups finely ground Pecans

1/2 cup sifted and then measured cake flour

Glaze:

6 ounces of bittersweet chocolate (I use Ghirardelli) 

2 tablespoons and 2 teaspoons of heavy cream

2 tablespoons of unsalted butter
Method
Begin by melting the chocolate and the butter. Then stir in the Bourbon and let cool. Beat your egg whites with half of the sugar until stiff but not dry. Place the dry ingredients into a bowl and add finely ground pecans. Fold the cooled chocolate mixture into the egg mixture. Finally - fold the egg whites into the (egg yolks and chocolate mixture) alternating with the flour mixture. 

Pour the batter into the pan and bake at 325 degrees, depending on your oven for about 25 minutes. Cool the cakes for a few minutes and then remove from the pans. Sprinkle with 2-4 tablespoons of Bourbon (optional) Once cooled glaze your cake with chocolate ganache.  
TIP: Refrigerate or freeze the cake prior to glazing.


Chocolate ganache recipe 

Ideas For Enjoying Your Bourbon Pecan Cake 
With this type of rich extreme flavor I recommend using a lightly sweetened whipped cream on the side to cut the richness a bit. This would make a great dessert, gift or birthday cake for food lovers.
A chocolate ganache or glaze goes well with this or combine it with...
Fresh Raspberries
Fresh Strawberries Dipped in Chocolate
Fresh Fruit of Any Kind
Decorating Ideas
Roasted Pecans Dipped in Chocolate
Chocolate Writing or Scrolls Around the Border
Sugared Flowers
Whipped Cream Piping
Whipped Cream With Fresh Fruit Arranged On Top
Surrounded by Grapes
Build Your Skills and Confidence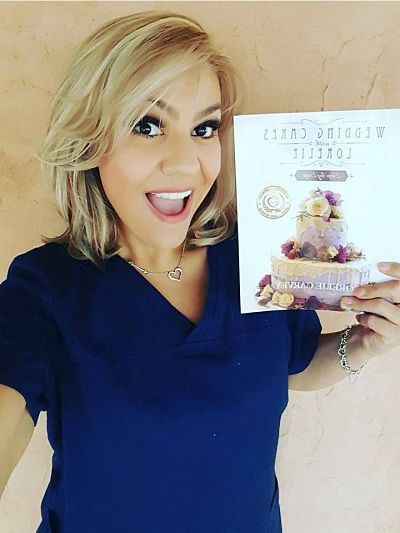 Click on the picture of Roxie to see how Wedding Cakes with Lorelie Step-by-Step will help you build confidence to create beautiful cakes and cherished memories. 
Impress your friends, family and customers with the same tried and true recipes that I have used with great success since 1985. The book comes with perks...
A membership to our Cake Crew on Facebook 
A special page on this website just for you 
All about Bourbon
This article was printed from Wedding-Cakes-For-You.com