Chocolate Cake Recipe

 The buttermilk cake is an outstanding chocolate cake recipe and is a cinch to mix and bake. It is one of the easiest recipes and gets rave reviews every time. Pair it with your favorite filling and frosting, then sit back and watch as your family, friends, brides, and guests spread the good word. Even my husband Scott can make this cake. Watch the video to see...

Buttermilk Chocolate Cake Recipe Video


Here is the original recipe which makes two 8 or 9 inch layers. This is a really easy one to make, just dump, mix and that's it. The fact that it's a dump cake recipe is another reason you will LOVE IT! WE also show you how to make chocolate ganache in the video to.

"I made the buttermilk chocolate cake recipe a couple of weeks ago and my husband declared it was the best chocolate cake that I had made! I ran out of buttermilk too that day and used the powdered and it worked fine"
~Colleen Charles~
Buttermilk Chocolate Cake Recipe
Prepare your cake pans with shortening and a light dusting of flour. Then place a piece of waxed paper cut to fit into the pan.  Preheat oven to 325-350 degrees (depending on your oven) 

1 3/4 cups all-purpose flour
2 cups sugar
3/4 cups cocoa
2 teaspoons baking soda
1 teaspoon baking powder
1 teaspoon salt
1 cup buttermilk
1 cup coffee
1/2 cup oil
2 eggs
2 teaspoons vanilla extract
Water can be used but the coffee really steps it up a notch. Try using Turkish coffee if you like a strong flavor or use instant if you don't feel like making a fresh pot.

Method
Mix together flour, sugar, cocoa, baking soda, baking powder and salt. Set aside. In another bowl, mix the oil, eggs, coffee, vanilla and buttermilk.

Dump the wet ingredients into the dry while mixing at low speed. Increase speed to medium and beat for about 2 minutes. Scrape the bowl and beat again for another minute.

Divide the batter evenly between the pans. This batter will be very thin. Don't worry it will bake up beautifully.

Bake in the preheated oven for 30-35 minutes, depending on your oven, or just until the tops are springy or a cake tester comes out clean.
For an IRISH treat or party cake, couple the cake with Bailey's Irish Cream, pastry cream filling, and buttercream with a splash of Bailey's. OUTSTANDING!
NEW Gluten Free version 
Craving More Chocolate?

These scratch cake recipes are way better than any of the chocolate mix recipes, and EASY! For the beer loving groom, here is a scrumptious chocolate cake recipe that includes his favorite stout! And a divine gourmet chocolate orange combination.

Build Your Skills and Confidence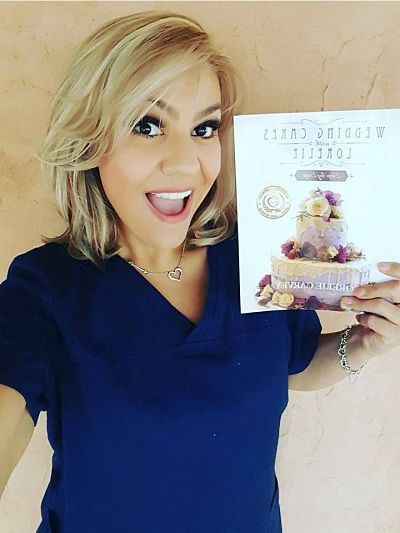 Click on the picture of Roxie to see how Wedding Cakes with Lorelie Step-by-Step will help you build confidence to create beautiful cakes and cherished memories. 
Impress your friends, family and customers with the same tried and true recipes that I have used with great success since 1985. The book comes with perks...
A membership to our Cake Crew on Facebook 
A special page on this website just for you 
History of Chocolate 
This article was printed from Wedding-Cakes-For-You.com