Rich Pastry Cream Recipe For A Wedding Cake Filling

A classic pastry cream recipe can be used as a delicious wedding cake filling. Italian wedding cakes are often filled with a Creme Patisserie, as it is also called and is usually flavored with an almond extract.
A Luscious Cake Filling Recipe
OTHER USES: Use this delicious cream for an English Trifle Dessert or in cream puffs.

You will need a 2 1/2 quart heavy bottomed pan, a whisk, sieve and a small mixing bowl and plastic wrap.

Pastry cream can be made ahead and refrigerated, covered for a week.

Ingredients


Pastry Cream Recipe Variations


My favorite way to use this cream is by layering it with cake pieces, fruit and whipped cream for an English Trifle. This is great crowd pleaser at a party of any kind. It uses up leftover cake and you can be as creative as you please with combinations.
This one in the photo has leftover orange butter cake with with white chocolate buttercream and is layered with strawberries, blueberries and raspberries. Whipped cream and pastry cream are layered in between.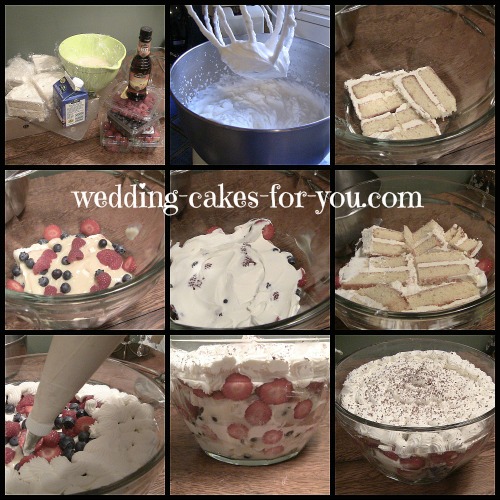 More Flavor Ideas

Bailey's Irish Cream Filling- Replace half of the milk with Bailey's Irish Cream. Eliminate the vanilla. Very Yummy!!!

Liqueur Flavored- Add 2 Tablespoons dark rum, kirsch, or other liqueur of your choice.

Almond- Add almond extract along with or replacing the vanilla extract.

Orange- Add 1 tablespoon grated orange zest to the milk and yolk mixture before cooking. Stir in 2-3 Tablespoons orange flavored liqueur into the finished warm cream. Do not strain the cream or you will lose the zest.

Coffee- Add 1 1/2 Tablespoons powdered instant coffee into the milk before whisking in the yolks.

Chocolate- Melt 3 ounces of semisweet or bittersweet chocolate in the top of a double boiler, then stir into the warm cream.

Mocha- Add the chocolate as in the chocolate version above, but add it at the end. Dissolve 4 teaspoons powdered instant coffee in 1 Tablespoon of hot water. Stir into this 1 cup of the finished warm cream. Add to the entire cream mixture and whisk in the melted chocolate.

Butterscotch- substitute 1/2 cup of brown sugar for all the granulated sugar.

This is the perfect accompaniment to pastry cream. You can fold it into the cream to make it lighter and use it as a dessert and filling.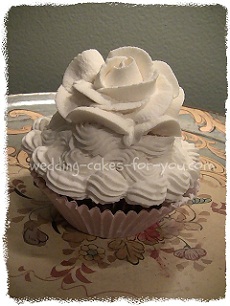 This article was printed from Wedding-Cakes-For-You.com