Rich Pastry Cream Recipe For Cake Filling

A classic pastry cream recipe can be used as a delicious cake filling. Italian wedding cakes are often filled with a Crème Patisserie as it is also called.
A Luscious Cake Filling Recipe
The video presents the pastry cream recipe and then a French sponge cake. Stay to the end to see how to layer and frost it. Or try the French sponge cake. 
Ingredients
1 orange zested
4 eggs
3/4 cup sugar 
2 cups milk
4 Tbsp. cornstarch
Method
You will need a 2 and 1/2 quart heavy bottomed pan, a whisk, sieve, small mixing bowl and plastic wrap.

Stir together the zest, eggs, sugar and milk. In a small bowl mix the cornstarch with about 1/2 cup of the liquid from the saucepan and stir. Pour this mixture into the saucepan and stir constantly over medium heat until the custard is thickened. It is done when it coats the back of a wooden or metal spoon. 
Pour it into a container, cover the top with plastic wrap. Poke a few holes in the plastic wrap to let the steam escape. Refrigerate for a few hours or overnight before using. 
Pastry cream can be made ahead and refrigerated, covered for a week.
Use this delicious cream to layer a sponge cake or filling for other types of cake. 
If you are using it as a filling pipe a dam around each layer. this helps to hold the cream in place. You can fold stiffly beaten whipped cream into the pastry cream for stability.  The whipped cream also makes the cream lighter. 
 It's perfect as is or with whipped cream for chocolate eclairs and  cream puff filling. 
Pastry Cream Recipe Variations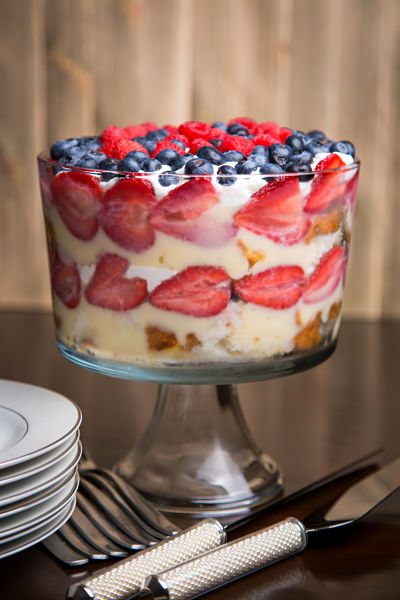 English Trifle
My favorite way to use this cream is by layering it with cake, fruit and whipped cream. It's called English Trifle and a great way to use leftovers. It's a great crowd pleaser at a party of any kind.
You can be as creative as you please with combinations.
The one in the photo has leftover orange butter cake with white chocolate and is layered with strawberries, blueberries and raspberries.
Whipped cream and pastry cream are layered in between.
Build Your Skills and Confidence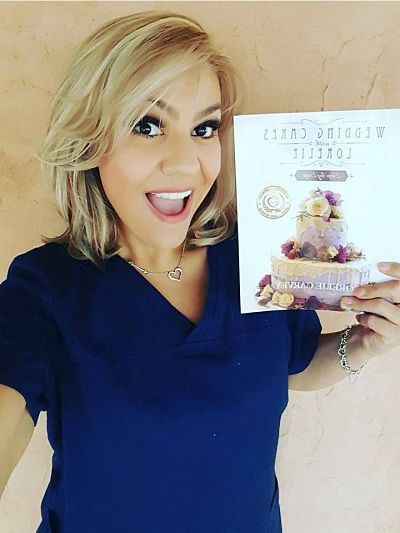 Click on the picture of Roxie to see how Wedding Cakes with Lorelie Step-by-Step will help you build confidence to create beautiful cakes and cherished memories. 
Impress your friends, family and customers with the same tried and true recipes that I have used with great success since 1985. The book comes with perks...
A membership to our Cake Crew on Facebook 
A special page on this website just for you 
More Flavor Ideas for the Pastry Cream Recipe

This article was printed from Wedding-Cakes-For-You.com