Raspberry Mousse Recipe

A fresh raspberry mousse recipe for a wedding cake filling or dessert.

Because this mousse is made using gelatin it firms up and can be used as a filling for a wedding cake.
This would pair up nicely with a lemon, orange or plain white butter cake. Chocolate would also compliment well.
Use this as an elegant dessert course for a dinner party or as an addition to the bridal cake in beautiful glasses served up with with a shortbread cookie as in the photo.
The Raspberry Mousse Recipe Video

Ingredients

3 teaspoons unflavored gelatin
1/4 cup cold water or fruit juice
1/2 cup boiling water or fruit juice
1&1/2 Tablespoons of freshly squeezed lemon juice
2-4 Tablespoons granulated sugar
Pinch of salt
1 cup fresh raspberries pureed, sieved or 1 10 ounce package frozen thawed drained and sieved. Use fruit juice to make one cup
3 Tablespoons fruit flavored liqueur
3/4 cup chilled heavy cream

Method
Sprinkle the gelatin over the cold water in a 1-1/2 quart saucepan. Let it sit for 3 or 4 minutes to soften then stir in  1/2 cup boiling water and stir until completely dissolved.
Stir in the lemon juice, 2 tablespoons sugar, the salt and the berry puree. Taste and add more sugar if needed. Set the pan over low heat and stir well until the sugar is dissolved.

Transfer the fruit mixture into a medium size bowl and stir in the fruit flavored liqueur. Set the bowl over ice water and stir or whisk for 10-15 minutes until the mixture thickens. As soon as it thickens remove from the ice water. With a chilled bowl and chilled beaters whip the cream until soft peaks form. Fold the cream into the berry mixture.

TIPS: Make a ring around each cake layer with buttercream before adding your cake filling recipe, especially a mousse. The dam will help to hold the layers together once refrigerated and prevent the filling from seeping through.
If you are crunched for time try folding heavy cream with a raspberry preserve as a substitute for the mousse.

Build Your Skills and Confidence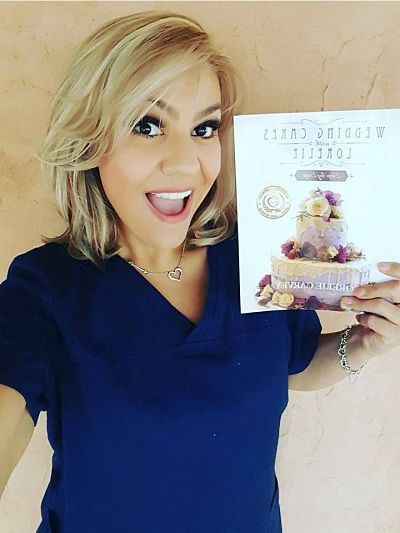 Click on the picture of Roxie to see how Wedding Cakes with Lorelie Step-by-Step will help you build confidence to create beautiful cakes and cherished memories. 
Impress your friends, family and customers with the same tried and true recipes that I have used with great success since 1985. The book comes with perks...
A membership to our Cake Crew on Facebook 
A special page on this website just for you 
A Testimony to the Flavor of the Raspberry Mousse Recipe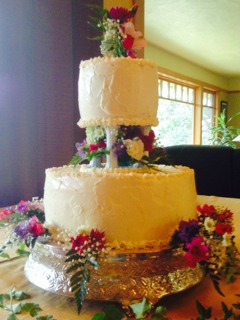 "The cake was a huge success. The flavor was wonderful and everyone loved the fact that it is not too sweet. 
Wonderful. Thank you for your contribution to this". 
~Kat
This article was printed from Wedding-Cakes-For-You.com