Lorelie's Baking and Cake Decorating Books
Welcome to My Baking and Cake Decorating Books Collection. Scroll down and read about each one and how they can help.  
Wedding Cakes with Lorelie e-Book
Instant Download $24.99
Wedding Cakes with Lorelie Step by Step e-Book is an instant download. It's great for people who want to get started immediately. All the ORIGINAL recipes, including filling and frosting, are in the e-Book.

Included with your purchase is the companion video, a membership to Lorelie's Cake Crew. You can access even more bonuses once you become a customer.
 Buy it Now or read MORE about it. 
"I LOVE the ebooks--they are so helpful! Betty Crocker was my best friend. So I was nervous. I'm was doing this for a WEDDING and by myself from scratch! I came across your ebooks and I just had to buy them and I'm so glad I did. I've spent the whole day reading through everything and even made the chocolate stout cake and the almond version of the vanilla cake. THEY'RE SO GOOD!!! I don't feel as nervous anymore"!~Chloe Dydasko~ Guam
Wedding Cakes with Lorelie Paperback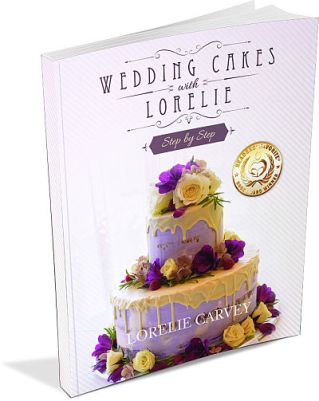 Now in Paperback 39.99
Wedding Cakes with Lorelie Step by Step  paperback book is perfect if you like a "real"  book. The book comes with all bonuses and access to the customer only page at the website. The bonus's include the companion video, printables and more.  You also get a lifetime membership to Lorelie's Cake Crew.
Buy now through Amazon or my Createspace store. Not sure? Learn more here
"Your recipes, book and website are a baking bible for me. Thank you for your responsiveness and willingness to share."
~Sherry Savage~

Lorelie's Best Cake Recipes in Detail
Tried and True $14.99
My recipe e-Book is perfect for you if you are looking for tried and true reliable delicious recipes. These recipes are great for home and professional bakeries. They are the ones I have used for over 30 years for commercial and home baking. Buy or read more and see more testimonials.
NOTE: These detailed recipes are included and published in the paperback Wedding Cakes with Lorelie Step by Step.
"I truly appreciate your generosity in sharing. I spent a year trying to find the perfect recipes for a variety of flavors for my little side cake business, now I only use your recipes & I know the cakes will be delicious."~Tammy Robinson~
Thanks For Visitng
Please feel free to check out the three book offers. If you have questions you can contact me anytime.