Custom Search
THE Place For Wedding Cakes
and Cake Decorating
For DIY'ers, inspiration seekers, and people in the Connecticut, New York area looking for a creative, reliable wedding cake designer 
Find what you are looking for fast in the Directories. One for bakers, cake decorators and chefs and one for brides.
Happy Browsing! And if you like my website share it with your friends on Facebook, Twitter, LinkedIn, Pinterest or other social networks. The sharing links are at the bottom of all of the pages.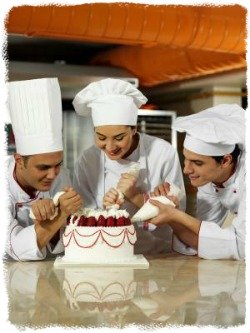 Decorating Ideas
Decorator Pages -Click me
Links to decorating supplies, recipes, tutorials, fondant cake decorating, cookie ideas, contests, baking information and more.
Lorelie's Cakes
Bridal Cake Gallery-Click me
Includes a picture gallery with testimonials and links to inspiration pages, cake design ideas, DIY creations and groom cakes.
---
Start Making Wedding Cakes For Fun Or Profit
---
"Thank you, thank you, thank you!!! You are my wedding cake angel" ~Loryn~


So you want to start making wedding cakes and maybe even start your own cake decorating business? Baking a cake from scratch or making a four tiered masterpiece sounds scary but it doesn't have to be. Let me help to put your mind at ease and save your sanity by showing you Step-by-Step how to go from oven to reception table.

My Ebook
As a baker with over 28 years of experience, I've learned many lessons the hard way. So now, I'm going to share my experiences with you, so you can learn the easy way!"  
Photo credit Mary Dillard

Does Any Of This Sound Familiar?

Your thinking about starting a

small bakery business

but you have no idea how to construct a wedding cake. 
No Worries! I've Been There!

And I can help...So grab your pastry bags, whip yourself up a batch of buttercream and flex your decorating muscles.
Most of all have fun!!!!
Click to read more about Lorelie
Thank you so much  for stopping by and I hope that you will find what you came here for. If you need extra coaching or want to contact me for any reason feel free to do so. 
Although I coach others I still provide brides and grooms with their Dream Cakes if you live in the New York, Connecticut or Massachusetts area give me a shout for a yummy delicious tasting. 
~Lorelie-
---