Simple White Cake Recipe
This simple white cake recipe is so straightforward that a beginner could make it in a pinch. 
Professional bakers and pastry chefs will also appreciate this versatile and absolutely elegant white birthday cake recipe, which of course can be multiplied for a wedding cake. I personally was VERY impressed with these layers of yummy-ness, which is why I included it here in my collection of winning recipes. 
The feathery white cake (below) is iced and filled with a Swiss meringue which consists of unsalted butter, sugar syrup, egg whites, and a touch of salt, and vanilla or almond. I beautified my sample cake above with a buttercream rose. A simple yet pretty decoration.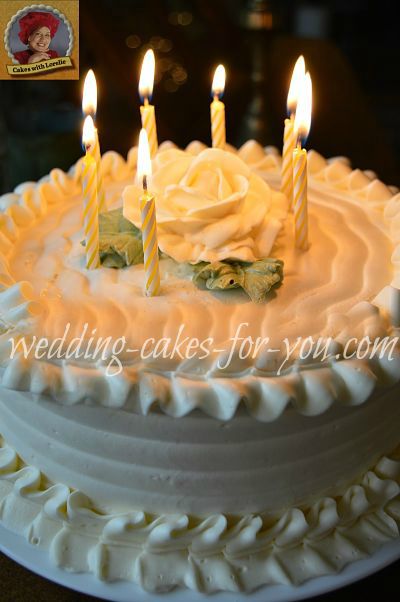 Simple White Cake Recipe
---

A White Cake Recipe Video For You
I talk you through the recipe and method in the video. This will make two layers each 8 or 9 inch pans or 2 dozen cupcakes.

Text Version of the White Cake Recipe
NOTE: Bake your layers for 27 -35 minutes or until they are firm enough to the touch. The cupcakes take less time. Check them after 12 minutes and then set the timer for 5 minutes and recheck. They still may need a few minutes more, but it will depend on your oven. You could also use the toothpick or spaghetti trick. Put the toothpick in the center of the cake or cupcakes and if there are no crumbs on it then the cake is done. 


NOTE: The recipe calls for the usual oven temperature of 350 degrees, I use a lower temperature in my oven. I have found that 350 is too high and my cakes burn around the edges and do not bake in the center. If this happens to you try lowering the temperature. Mine is set at 335 for most cakes.  You will have to experiment with your own oven. This cake yields 12 servings

Prepare two 8 inch or 9 inch pans with shortening and a dusting of flour plus waxed or parchment paper lining. 
Ingredients 
2  cups of all-purpose flour
3 teaspoons of baking powder
1/2 teaspoon of baking soda
1/2 teaspoon of salt
1 1/2 cups of granulated sugar
1 cup milk
1/2 cup of shortening
1 teaspoon of vanilla or 1/2 teaspoons almond extract
5 egg whites
Preheat the oven to 350 degrees
Method 

1. Start with your dry ingredients, placing them all into the mixing bowl with the mixer on low to blend.
Add the milk and the vanilla or almond and the 1/2 cup of shortening. Blend on low speed until  moistened. Gradually bring the mixer speed up to medium high and beat for 2 minutes.
Add the egg whites and mix on low to incorporate them. Raise the speed to medium high and beat for 2 minutes. 
Split the batter between two 8 inch pans. Details are in the video for preparing and filling your pans.
Bake until the cakes spring back to the touch or a toothpick stuck into the center comes out clean. 
Enjoy this simple and delicious White Cake Recipe!
---
Ideas For Enjoying Your White Cake Recipe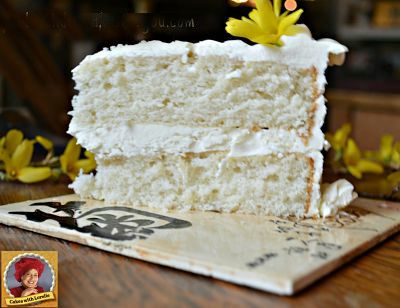 With this type of cake I like to use lightly sweetened icing such as a Swiss meringue buttercream. You can take that basic buttercream and add flavorings to it to make a delicious filling. The combinations are endless for a simple white cake recipe like this. I will give you some ideas then feel free to experiment with your own creativity.
Add to your buttercream to taste:

Cocoa Powder (unsweetened)
Lemon Curd
Toasted Chopped Nuts

Toasted or Un-Toasted Coconut
Raspberry or Strawberry Preserves

Canned Cherries (drained)
Crushed Pineapple
Real Maple Syrup

Try other yummy filling such as:
Whipped Cream and Sliced Bananas or Strawberries

White Chocolate Ganache with Fresh Raspberries

Canned Pie Filling (can also be mixed into a buttercream)

Whipped Cream with Lemon Curd
Back to directory of cake recipes