Luxurious Chocolate Orange Cake
Introducing the Chocolate Orange Cake. Let's start with a few VERY SWEET words about this amazing recipe.
"This chocolate orange cake was out of control!!!!! I don't even like chocolate and orange and almost ate the entire huge slice. WOW!!!....Well done... as usual."
~Shannon Goldberg~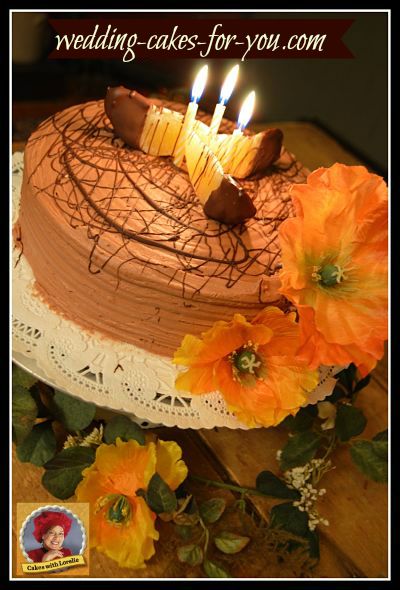 Passion
Besides the rich and powerful flavor sensation that this cake delivers the most wonderful thing about this particular chocolate layer cake is the ease of mixing and baking it.
You literally place all the ingredients into a bowl mix it, pour it into the greased and floured pans, bake it for about 20 minutes and like magic you have an exquisite torte. A.K.A Dump Cake, which does not sound so exquisite at all. But trust me when I say it is dreamy.
---

Video of the Chocolate Orange Cake Recipe


"I just wanted to write to you to thank you for your recipe of the chocolate orange cake. It was absolutely amazing and possibly the best cake I have ever tasted! I can't thank you enough."

~Jessica~ Australia
Listed are the ingredients for this delicious cake. Please follow the video for directions. Make note of this : the video is missing the baking powder. Don't forget to add it or the cake will not rise. :-) 
2 cups sifted cake flour
2 cups sugar
1/2 cups cocoa
1/2 teaspoon salt
1 teaspoon baking powder
1/2 cup room temperature milk
1/4 cup oil
1 teaspoon vanilla 
zest of one orange
2 large eggs at room temperature
Juice of one orange plus enough boiling water to make one cup
Blend into the orange and hot water 2 ounces of melted unsweetened chocolate
Cake Frosting Ideas
Included in the video instruction is a light chocolate orange birthday cake icing that pairs well with the dark rich layers.

Be creative and choose other fillings and icings to go with this cake. Here are a few ideas for you...
Whipped cream flavored with orange oil or extract and the zest (outer skin of the fruit) and sweetened with confectioners sugar.
Chocolate ganache if you like it really rich.
Vanilla buttercream is a great choice for cutting the richness a little fo those of you who are not chocoholics. 
Decorate the top of with raspberries or use them in the filling with the icing or cream.
Dip orange or Clementine slices in melted semi sweet chocolate.
---
This particular cake has a sophisticated flavor that will make a beautiful cake for an adult party, but kids would probably love it as well. I n the video I made a two layer cake with 9 inch pans but if you use 8 inch pans you can make three layers of lusciousness.
Feel free to use this as a wedding cake or for any special occasion. You will have to multiply the recipe many times for a wedding cake but I think it would be well worth the effort.
---
Delectable
I hope you like this rich chocolate cake recipe as much as Shannon and myself. Its a great addition to my repertoire and I will be using this for my family and friends.Thanks for visiting my website and please let me know what you think or what you would like to see.