The Best Carrot Cake Recipe

The best carrot cake recipe is a tropical carrot cake style and it is simply the greatest!

This carrot cake has always been a family favorite of ours over the years. It originated from The Silver Palate Cookbook and from Connecticut where I am from. It's simply amazing and unique because it is made using puree rather then shredded carrots. You will find variations at the bottom of the page below. A pumpkin cake for Thanksgiving or Halloween and a carrot cheesecake combo. NEW Gluten Free version 
"I just wanted to let you know I made recipe over the weekend and it came out GREAT! My whole family loved it! And certainly those that didn't care too much for carrot cake - loved this one."

~lafemmelisad~

This simply elegant, yummy and delicious wedding cake was for a friend who was in love with my recipe. The bride and groom also requested fresh orchids with smooth creamy buttercream sides and a ruffled border.
---

The Best Carrot Cake Recipe EVER!!!
Video For a Small Batch using a 4 or 5 quart mixer

Makes one 10 inch cake or a few small 6 inch.

This video has the measurements for a small batch of the best carrot cake recipe and shows the mixing of the batter, and at the end I put the cake together with the filling and frosting.
---

Do You Adore Baking And Decorating?
Click on the pics to read more about how my video and in depth books will lift your spirit and give you the confidence to WOW your friends, family and customers !!!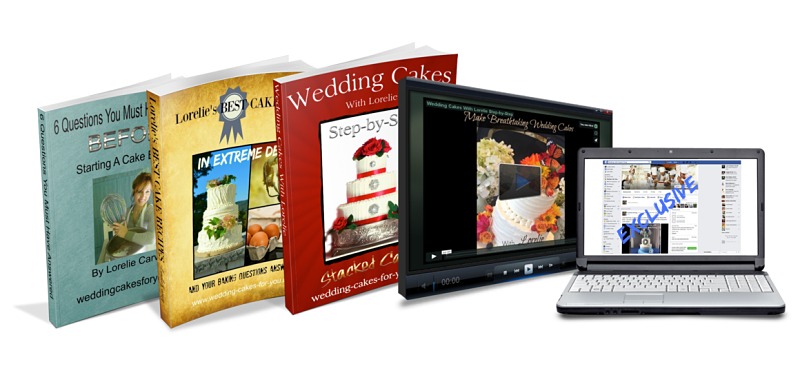 A mini e-course and membership for only 34.99

Wedding Carrot Cake Recipe

This video is an oldie, but you might enjoy watching it. It is preparing batter for a three tiered wedding cake in my 20 quart mixer.  You will see how it is mixed in large quantity. The wedding carrot cake recipe in detail is in my new recipe book.
---

Interesting Variations

Facebook follower and pastry chef Helga Moldanado came up with a couple of amazing variations for this recipe.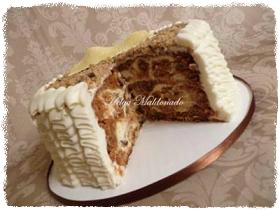 "Hi, Lorelie

I just wanted to share with you the Father's Day Cake that I made. It was so delicious and everyone loves it. I made your best carrot cake recipe and the cheesecake both in one. It was a rich, moist and delicious Carrot Cake Cheesecake. Like a piece of heaven. It will be my go to recipe...

I decorated it with simple ruffles, because I wanted to have a simple and elegant look. Hope everyone likes it..!!

Thank you so much for sharing your amazing recipes with us. 

~Helga Maldonado~"

To make a Thanksgiving Pumpkin cake try substituting pumpkin puree for the carrot and then adding a small pinch of ginger and a 1/4 teaspoon of allspice.