Gothic Wedding Cakes For Goth Weddings

AWESOME Gothic wedding cakes and some cool but dark ideas for toppers.

A Gothic bride all dressed in black. (right) Goth weddings are quite unique. Where else would you see a bride in a black bridal gown?

Enjoy the Video

Great tips and a gorgeous arrangement of the reception room in the video by David Tutera on "How To Plan a Goth Wedding"

---
A Tim Burton Fantasy Cake

By Pink Cake Box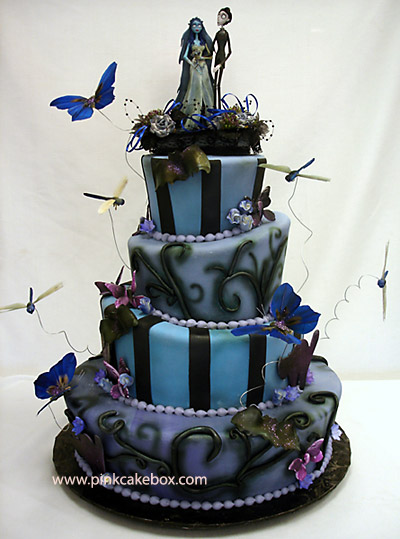 This cake by The Pink Cake Box is  great for your Gothic wedding theme. They are based out of New Jersey and make the most amazing cakes of all kinds.

---

Bittersweet Black Beauty

By Bittersweets Bakery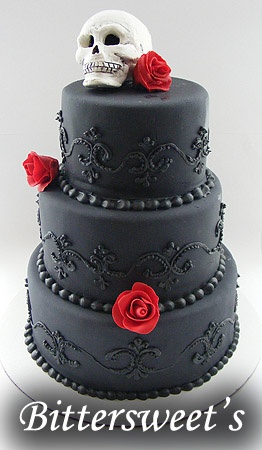 Black on Black
Black fondant, red gumpaste roses and beautiful scrolls.
The perfect recipe for this would be the chocolate stout.


Red and Black Beauty

From Jackie's Cake Boutique

Red and black fondant covered whimsical cakes with white and black royal icing and silver scrolls. Check out Jackie's cake on the Rachel Ray show.
Imagine this confection as an orange butter cake with white chocolate buttercream sprinkled with fresh raspberries in the center.

---

Gothic wedding cake topper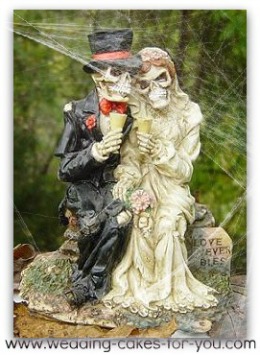 The perfect topper!!! The skeleton bride and groom is a favorite.  I bought this topper 24 years after getting married and I bring it out every Halloween. You can find it online. I don't have these for sale.

---

Related Pages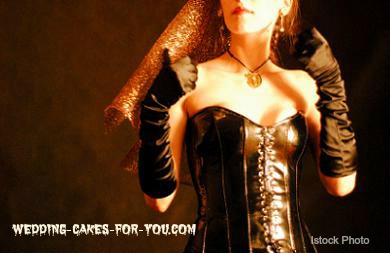 Chocolate dripping down the sides of these three tiered cakes coupled with red roses is Goth heaven. The photos below are clickable links.

Another topper idea for you at the homemade wedding favors page are the little Halloween pin doll ornaments  or dark mermaid keepsakes for your guests. 
A renaissance wedding cake couple below has a Gothic look as well. Click on them to see the whole cake.

Other recipes that would be great for a Goth Feast

Either of the pumpkin recipes would be fantastic for a dessert banquet table. Chocolate drizzled over the tops or served as a dipping sauce for desserts is a nice dark touch and a delicious way to top off the evening.