Gothic Wedding Cakes 
 Gothic Wedding Cakes and Cool Dark Ideas


If you're anything like me...I suspect that every so often you want to try something a little offbeat, or learn a new cake decorating skill. Well... I along with a few other brave souls in my Facebook cake group recently took on a cake challenge. We created gothic wedding cakes with a purple and black color theme. Since Halloween was approaching it seemed the perfect fit. 

I hope these get you excited enough to try your hand at developing new cake decorating skills.
Want to learn more about joining the exclusive cake group? contact me

Watch the Video
Link to the video on YouTube

Gothic Wedding Cakes Are Gothlicious!


First Photo: Simple poppy flowers with beaded centers, soft lavender sugar veil lace, matte black fondant and creamy buttercream are all merged into one.

The bejeweled antiqued silver cake stand has a hint of vintage and looks almost as if it was created exclusively for this cake. 

The lace is made using an edible mix called sugar veil and a patterned mold. I posted below for you a video from the creator of this product so you can follow her direction if you decide to try it. 

Oh My Goth!


The fantasy poppy flowers are made with gumpaste and Wilton petal cutters. The centers are silver mini metallic beads by Twinkles Baker Decor. You can find Twinkles on Facebook.  If you would like to learn more about gumpaste flowers and see a few tutorials that I have made about them here is the link 

Mysterious


Irresistible photo opportunity with a mystical visitor dressed for Halloween :-) 

The Dark Queen Gothic Wedding Cake


Sherri Ferguson Riehl of Make A Wish Cakes is the creator of "The Dark Queen". The crown and the vampire cape collar are made of modeling chocolate, which is edged in gorgeous black sugar lace.
The top tier is brushed with grey luster dust to give it that weathered appearance with royal icing vines and leaves trailing down the sides. The cake flavor is a decadent apple flavored cake with fresh apple filling. Now that is unique. 
Find Make A Wish Cakes on Facebook

Sugar Veil


In case you are wondering what sugar veil is or would like to try it I am sharing this video from the creator. It's a lovely way to add edible ribbons or lace and a touch of professionalism to any cake design. 


Gothic Wedding Cake Start To Finish 


A cake design for a very scary Halloween party with three sets of frightening brides and grooms. Stay to the end to see the truly awesome couples especially Dark Lily and Darkness cutting the cake as husband and wife. 
Link to the video on YouTube

A Tim Burton Fantasy Cake


By Pink Cake Box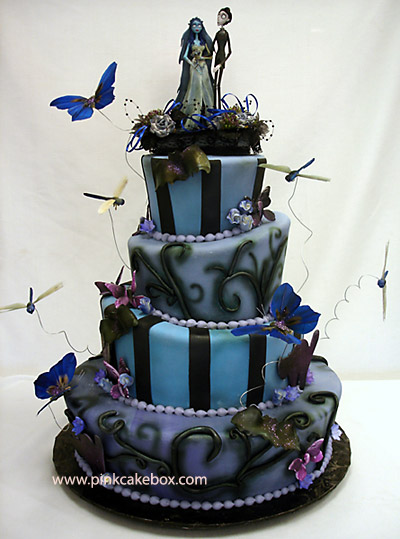 This cake by The Pink Cake Box is  great for your Gothic wedding theme. They are based out of New Jersey and make the most amazing cakes of all kinds.


Bittersweet Black Beauty

By Bittersweets Bakery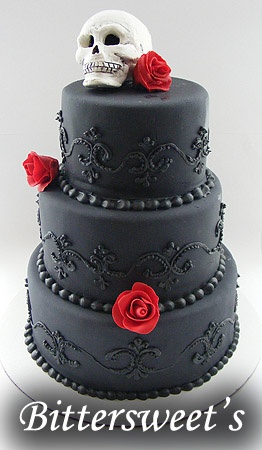 Black on Black
Black fondant, red gumpaste roses and beautiful scrolls.
The perfect recipe for this would be the chocolate stout.


Red and Black Beauty

From Jackie's Cake Boutique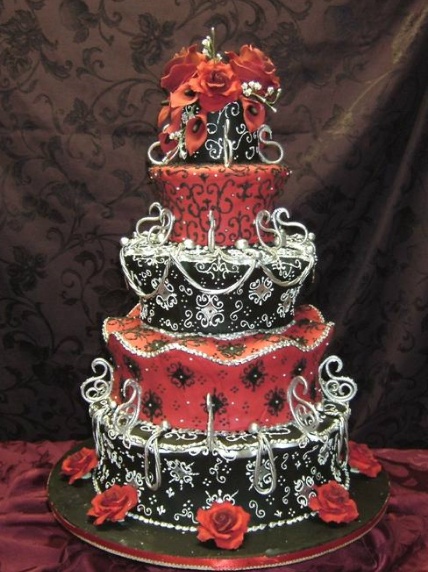 Red and black fondant covered whimsical cakes with white and black royal icing and silver scrolls. Check out Jackie's cake on the Rachel Ray show.
Imagine this confection as an orange butter cake with white chocolate buttercream sprinkled with fresh raspberries in the center.


Related Pages On This Website

A renaissance wedding cake couple below has a Gothic look as well. Click on them to see the whole cake. 

Other recipes that would be great for a Goth Feast

Either of the pumpkin recipes would be fantastic for a dessert banquet table. Chocolate drizzled over the tops or served as a dipping sauce for desserts is a nice dark touch and a delicious way to top off the evening.

A Gothic bride all dressed in black. Goth weddings are quite unique. Where else would you see a bride in a black bridal gown?