Hair-Raising
Halloween Wedding Cakes

Frighten your guests with these chilling Halloween wedding cakes and ideas for ghostly Halloween cupcakes.

 A surprise wedding cake added a nice touch to a Halloween party with three sets of brides and grooms. This chocolate buttermilk cake filled with caramel is covered in dark purple and cream buttercream ruffles, black roses and a "Love Never Dies" cake topper. Watch the video to see a fast motion of me making it and the bride and groom cutting it together. 
Lord of Darkness and Dark Lily on Their Wedding Night

Love Never Dies Video


Link to the video on YouTube

Creepy
Kinda creepy but cute! The perfect toppers for your Halloween wedding cakes. I don't sell these but you can search them and find them online.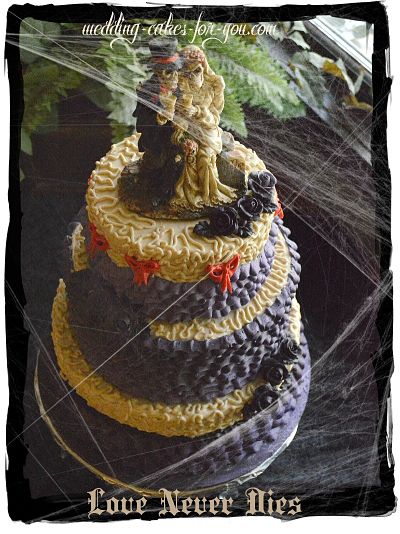 Love Never Dies
The cake pictured below was made by Annie's Edibles. It's a dark and ghoolish design yet easy for a beginner or DIY bride. 

The buttercream frosting is colored with a generous amount of black paste food coloring. This can be done with fondant or a dark chocolate ganache.
Black and Red
An eerie spider web design or mysterious yet whimsical macabre theme will delight and fright!
The flowers are fresh blood red roses with a sprinkling of baby's breath. For a table covering use black satin or other fabric that can be found at craft or sewing stores.

A pastry bag fitted with a tiny round cake decorating tip and either buttercream icing or dark chocolate is the final touch on the surface of each tier.
Brides and Grooms Posing With My
Halloween Wedding Cake :-)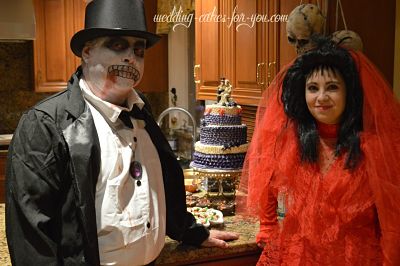 Skeleton Groom with Bride in Red
Custom Search
Skeleton Bride and Groom
---


More Haunting Halloween
Wedding Cake Ideas


The marshmallow spiderweb design technique is easy to do once you get the hang of it. This one in the video is for a Halloween party...WARNING: Be prepared to get real messy. (It cleans up easily with water)

A Simply Spooky Halloween Cake
The cake below with the spider web designs is made using an orange colored buttercream frosting with black stringwork for the webs. The spiders can be piped on with black buttercream or you could use plastic ones from any craft or Halloween shop.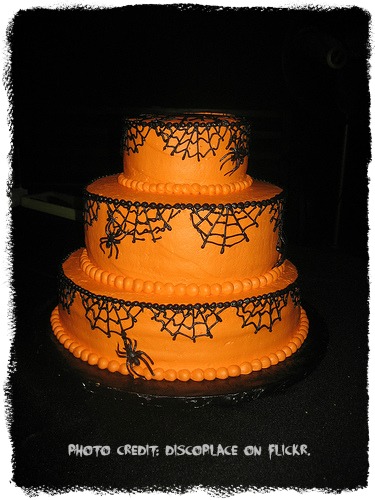 An Elegant Yet Dark Design

The chocolate three tiered wedding cake below with red roses is made using a chocolate fondant or chocolate modeling paste. Gomez and Morticia dolls accent this display very well don't you think?
The flowers are made of gum paste or fondant flowers and can be either made by hand (a lot of work) or can be purchased pre-made. ( highly recommended if you are a DIY bride) Fresh can take the place of the sugar ones if you really want to keep it simple and easy.



Red and Black Wedding Cake



Don't you just LOVE this mischievous whimsical wedding cake below? It is a fairly simple cake to re-create as you do not need a lot of decorating skills.
The cakes are frosted in buttercream, then melted chocolate is poured over the tops of each tier allowing the chocolate to ooze down the sides. This is done prior to stacking the cakes on top of each other.
The rose petals can be purchased at the florist and the toppers can be found online.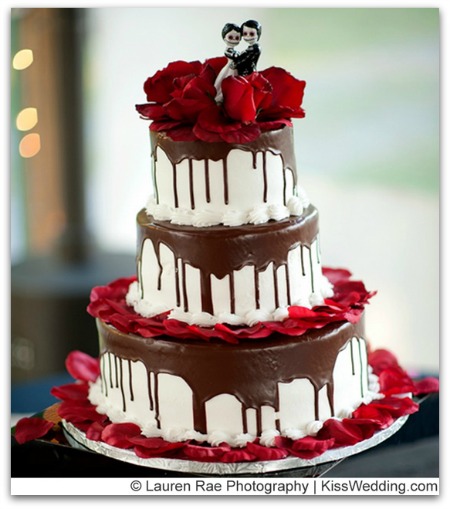 ---
Where Would You Like To Go Next?