Wedding Cake Supplies

A list of the best wedding cake supplies for cake decorating to make beautiful cakes for any occasion.  For your convenience there are links to each product that will take you directly to what you are searching for.

My affiliates: Candyland Crafts, Katom Restaurant Supply and Cake Stackers.

---
So you have decided that you want to venture into the wedding cake world...After many, many years of experience I can recommend to you the essentials to get you started on the right track. Having good sturdy tools on hand at all times makes this job a pleasure.
---

A Good Heavy Duty Mixer

Probably the single most important investment

KATOM is perfect if you are already in business or plan on opening a new one because they sell in quantity. And they have Lower prices for larger items.

Here is a link to the 6 quart Kitchen Aid Professional size mixer at a reduced price. It will open in a new window for you.
KitchenAid KP26M1XOB Professional 600 Series Mixer With Pouring Shield, 6 Qt, Onyx Black
---

More Wedding Cake Supplies


Start with a Tool Box  

A good sturdy organizer is really important. I have had one like the one pictured here for over 25 years. They have much bigger and better ones available now. You will find all of your wedding cake supplies at Candyland Crafts.

Click
to see all of the organizers.
---

Cake Decorating Turntable


Of all of the wedding cake supplies the turntable will be one of your best friends. Purchase a high quality one. It will last a lifetime. I highly recommend the Ateco or Wilton cast iron revolving stands.

Click
to see your choices.
---

Pastry Bags & Couplers


Pastry bags are essential. You will want to have at least two of them or more if you do a lot of decorating. More is always better so you don't have to keep washing and exchanging icings etc. Watch my video to see how to prepare your bag for the coupler and the tips.

Click
to see the canvas, plastic coated and polyurethane decorator bags.
---

Cake Decorating Tips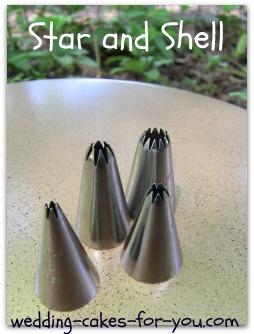 Have all of the basic cake decorating tips on hand and in various sizes. The ones that are used the most are the
star

shell
round
rose

basket
leaf

You can always add fancier ones to your arsenal of wedding cake supplies as you hone your craft.
Click
to see a wide variety of decorating tips.
---

Combs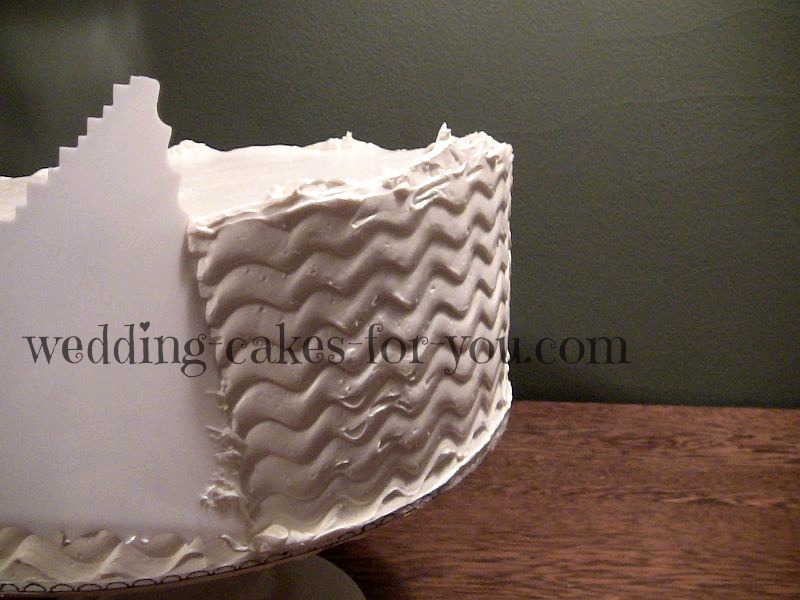 The combs are wonderful. They add a quick professional and pretty decorative look to any cake very easily. Although the plastic ones work fine, the metal ones are sturdier and more sanitary. I have a plastic one, somehow lost my metal one. There are three sides, each with a different pattern.
TIP: You can use a serrated knife to get a similar effect.

Click
to see the cake decorating combs at Candyland Crafts
---

Parchment Triangles


Pre-cut parchment triangles are really nice to have on hand with your wedding cake supplies. Instead of having to cut them, it's very convenient to just grab one and make a quick decorating cone. They save a lot of time and are not expensive. But if you don't want to get the pre-cut parchment or you don't have parchment paper in the house you can use waxed paper. Here is a video I made that shows how to make a cone with wax paper.

Click
to see the parchment triangles.
---

Frosting Spatulas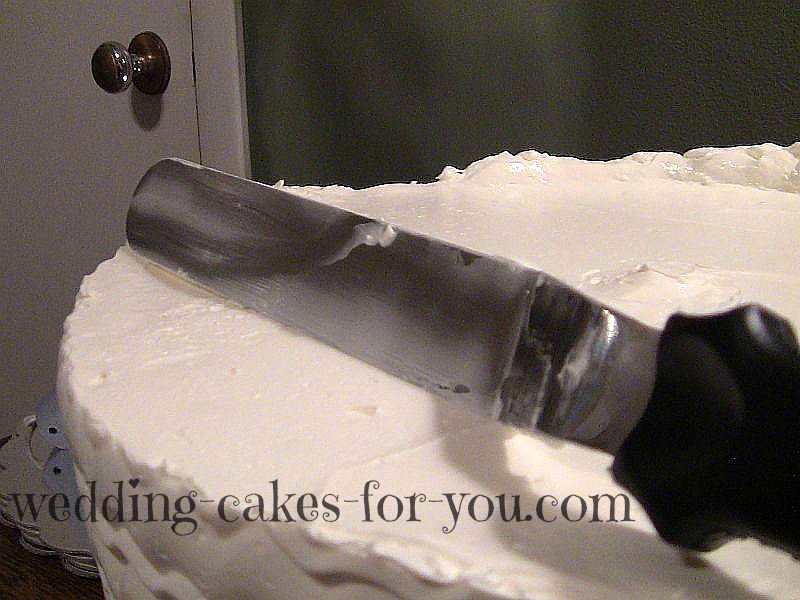 An offset 7 & 3/4 inch spatula and a larger straight 14 inch spatula are the two sizes I use the most and would recommend. Experience will tell you which ones are your faves. A smaller one comes in handy too for your smaller projects.

Click
to choose your spatulas.
---

Flower or Rose Nails


Use the nails when making roses, daisies and other frosting flowers, then remove and place the flowers with scissors directly on your cake. Here is a video that I made to show you how to make a buttercream rose using the nail. Mine is a little old and lopsided in the video. I think it's time to buy some new wedding cake supplies :-)

Click
to check out the flower nails.
---

Cardboard Cake Circles


The cardboard rounds are essential when making cakes. They support and allow you to carry your cakes from refrigerator to the counter and back with ease. They have other uses too. When filling your cakes use them to separate layers when filling and frosting. If you start making a lot of wedding cakes you will want to buy these wholesale. You don't want to be jhand cutting them. There is a point where you buy wholesale. You will know when that time arrives :-)

Click
to purchase corrugated cake circles.
---

Cake Boxes


Your wedding cake supplies closet should contain boxes. It's a nice touch to leave a cake box for the bride and grooms top tier.
Glue your business card to the top and put a few inside the box too. Eventually you will want to get these wholesale as well and in a variety of sizes.

Click
to purchase boxes for your cakes.
---

Cake Bases


Masonite or the silver foam ones from Wilton. Use these to support your entire tiered masterpiece. The Masonite ones can be re-used, add the cost to your deposit and the bride can return it along with any plastic plates or pillars. for her refund.

Click
to see the Masonite boards.
---

Dowels



Wooden dowels are used for internal supports and to hold the entire cake together. Use one larger dowel to go through the center of a stacked cake from top tier to bottom tier. Always have a few of them on hand, they are very inexpensive and you can get them at any craft shop or lumberyard. Check out my page about Cake Stackers.  I started using the metal supports from the Stackers for my larger projects recently.

Click
for wooden dowels.
---

Round Pans


Have at least one of each of the following sizes to work with if you are planning on making wedding cakes, two pans of each size is ideal, it will make your job a little easier and more economical in the long run. For example for 125 people you would purchase 14-10-6 inch pans. 
Click
for round pans.
---

Square Pans


Most likely you will not get as many orders for square cakes, so you can get away with waiting until you do get that first order. One of each size is always handy to have around though when doing cakes for a hobby or for a living.

Click
for squarepans.
---

Wire Whisks


You will need at least one hand held whisk for baking your cakes and making fillings, frosting and whipped creams. Buy a good quality one and it will last a lifetime.
Click
for wire whisks.
---

Sifters



A triple sifter is nice to have on hand. But the hand held basket ones are great. I use those mostly for sifting flour and cocoa.
Click
for sifters.
---

Measuring Cups & Measuring Spoons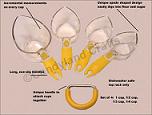 A good set or two of these is an obvious must for measuring flour, sugar and other dry ingredients.
Click
for measuring cups.
---

Thermometer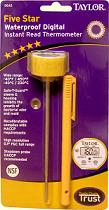 A candy thermometer is really important if you plan on making meringue buttercreams and certain types of sugar.
Click
for thermometers.
---

Spatulas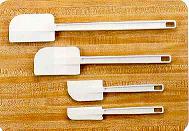 Make sure to have a variety of rubber spatulas for scraping bowls, folding ingredients and stirring. I use mine a lot.
Click
for spatulas.
---
Cooling Racks

I do not have cooling racks among my wedding cake supplies. I simply put out the pans on the counter with a small towel underneath. These are nice to have to cool your cakes though and can be used for cookies too.
Click
for cooling racks.
---
Pastry Brushes

Have a couple of these on hand for brushing syrup onto your cakes when needed.
Click
for pastry brushes.
---
Parchment Circles
Pre cut parchment circles are for lining your pans and really nice to have, but you can cut your own if need be or if you are just starting out. When you do a high volume it becomes more important to have this convenience.

Click
for parchment circles.
---
Parchment or Waxed Paper
 You can get these at your local grocery store too. Use quick piping cones and to line your pans.

Click
for parchment paper.
---
Fondant Roller

This roller works beautifully. It doesn't stick to the fondant like a regular rolling pin does and is larger and easier to use. Find this and all of the other
Fondant Tools
you will need.
Fondant My favorite Brand


Satin Ice
tastes delicious and comes in a variety of flavors and colors. I have tried many fondant products and this one is at the top of my list.
---

Cake Stacker's Turntable


This video shows how the Stacker's system works! you will be amazed.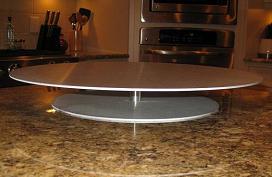 The Cake Stackers are fantastic, especially for larger sizes. It's a metal internal support system :-)  I highly recommend these for greater security especially during the delivery process. Order through my website and get 5% off. 

---

Downloadable List of Wedding Cake Supplies for the Basic Cake Decorating Class
Candyland Crafts
---
Wedding Cake Supplies Affiliate Disclosure

Some of the links on this page are affiliates. This means that I will receive a small commission if you purchase a product through them. There are no extra charges for doing so.  This helps me keep the information on this website free of charge. Because my name is attached and your satisfaction is very important to me, I only recommend products I have purchased or would purchase myself and which I believe you would benefit from. You can read the full disclosure policy by clicking the link.

---