Phenomenal Chocolate Cake Recipe

This outstanding chocolate cake recipe is a cinch to mix and bake. It is one of the easiest recipes and gets rave reviews every time. Pair it with your favorite filling and frosting, then sit back and watch as your family, friends, brides, and guests spread the good word.


"I made the buttermilk chocolate cake a couple of weeks ago and my husband declared it was the best chocolate cake that I had made! I ran out of buttermilk too that day and used the powder and it worked fine."

~Coleen~
---

Buttermilk Chocolate Cake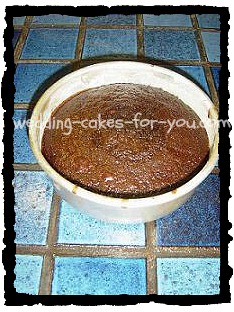 This is much better than any of the chocolate cake mix recipes, and EASY!

Here is the original recipe from the Hershey's Cocoa box which makes two 8 or 9 inch layers. This is a really easy one to make, just dump, mix and that's it. The fact that it's a dump cake recipe is another reason you will LOVE IT!

For an IRISH treat or party cake, couple the cake with Bailey's Irish Cream pastry cream filling, and buttercream with a splash of Bailey's. OUTSTANDING!

Preheat oven to 330-350 degrees (depending on your oven) I use 335-340 for most of my cakes.
1 3/4 cups all-purpose flour
2 cups sugar
3/4 cups cocoa
2 teaspoons baking soda
1 teaspoon baking powder
1 teaspoon salt
1 cup buttermilk
1 cup coffee

1/2 cup oil
2 eggs
2 teaspoons vanilla extract


TIP: Water can be used but the coffee. Try using Turkish coffee if you like a strong flavor or use instant if you don't feel like making a fresh pot.

Mix together flour, sugar, cocoa, baking soda, baking powder and salt. Set aside.

In another bowl, mix the oil, eggs, coffee, vanilla and buttermilk.

Dump the wet ingredients into the dry while mixing at low speed. Increase speed to medium and beat for about 2 minutes. Scrape the bowl and beat again for another minute.

Divide the batter evenly between the pans. This batter will be very thin. Don't worry it will bake up beautifully.

If you would like to see visuals I have video tutorials on the make your own wedding cake page.

Bake in the preheated oven for 30-35 minutes, depending on your oven, or just until the tops are springy or a cake tester comes out clean.
For Your Larger Projects

If you are ready to get started with a larger tiered cakes then click on the chocolate cake link to see the chocolate wedding cake recipe. The measurements for a small bridal shower cake and a larger tiered cake are written out for you.


---
Craving More Chocolate?

Chocolate Stout Cake

For the beer loving groom, Here is a scrumptious chocolate cake recipe that includes his favorite stout!


The waitress at The Barrington Brew Pub in Great Barrington Massachusetts gave me this recipe after I told her how amazing it was. They stack their chocolate layer cake three layers high with a chocolate ganache filling in between each layer. Then to top it all off they frost it with the ganache. It's a very old fashioned tall Victorian style cake. It is soooooo good I made it for my son Daniel's wedding cake who is a huge Guinness stout fan. Check out this unique cake recipe.

Triple Chocolate Cake
A combination of the buttermilk chocolate cake, with a rich chocolate ganache filling and frosting made with Ghirardelli chocolate and heavy cream, or pillows of decadent chocolate mousse. This is a great chocolate cake recipe combination.

Do you love cake? You can share your favorite recipe right here on this site!
Do you have a special cake, filling or icing recipe? Share it with the world!

What Other Visitors Have Said
Click below to see what other cake lovers have posted.
Healthy Chocolate Cake ?

Yes DECADENT, (yet healthy) chocolate cake! When my kids beg me to bake a cake, I always make the Hershey recipe that you have on your site, but adapt …
Tipsy Pudding Cake Not rated yet
TIPSY PUDDING CAKE Back in the late 1950's I advertised in a small local paper to do baking and sewing from home. I was trying to earn money for …
From Chocolate Cake Recipe to Wedding Cakes For You Home
Back to Top