50th Anniversary Cake
by Shay
(Ponte Vedra Beach, Fl.)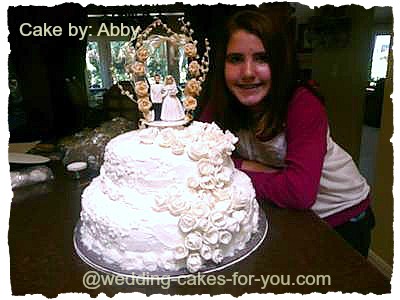 12 year old's gift for the grandparent's 50th
My daughter made this 50th Anniversary cake. Abby, loves to bake. She really wanted to make a replica of her grandparents wedding cake for their 50th Anniversary. With the help of your web site it turned out beautiful. She worked on it for 7 days! She's only 12 years old!!! The topper is the original topper from 50 years ago.


Lorelie's response:
Wow! Abby you are very talented. Your 50th Anniversary cake is amazing. Your grandparents must have been astounded by this beautiful creation. Thank you for sharing it here at Wedding Cakes For You. And I'm so happy to hear that you found the website useful. I'm sure you will be getting lots of comments on this.

From Abby
This is Abby. I wanted to make a cake to replicate my grandparents wedding cake but I only had an old black and white photo to go by. I knew it was 2 layers and was all with with roses and other flowers.
One week before the party I made 3 practice cakes to make sure I had the best recipe. I found that the 1 2 3 4 cake was a little dry and hard. The second recipe I found didn't have good flavor either. I decided that even though I like all scratch recipes, the recipe that had the best flavor was a combination.
1 box of Golden Vanilla cake
1 cup granulated sugar
1 cup + 2tbsp cake flour (NOT all-purpose)
1/8 tsp salt
1
1/3 cups water
3eggs
1/2 cup melted butter
1 cup sour cream
1tsp vanilla extract
bake at 325.
It took over an hour for my largest layer (14 inch) to cook through. I used the Wilton heat strips (awesome) and the cakes were almost flat. Then I wet a clean towel and pressed them down while they were hot. I didn't have to level any of them!! I cooked the layers over 2 days and froze them.
During the week I was making the fondant roses. Those take a long time. I bought a Wilton book and taught myself. It wasn't hard. I used dry spaghetti noodles to build the flowers on. I made the rose bases one day and let them dry for at least 24 hours. Then I made the flowers.
Two days before the party I thawed the cakes and layered them (my mom helped with stacking them). I went through a lot of icing!!! We put them in the fridge and decorated them the next day. I made sure they were sealed well with plastic wrap in the fridge. too.
The party was a lot of fun and my grandparents and all of their friends thought the cake was really good. We served it with berries and ice cream.
I'm attaching the original picture of their wedding day and the picture of the party.
Thank you,
Abby Horner
From Lorelie, Thanks Abby for adding your experience about making your grandparents 50th Anniversary cake. Fabulous! Thank you.