A Christmas Wedding Cake
by Gale Smith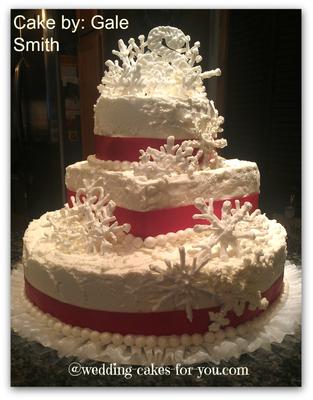 A Snowflake Wedding Cake
Christmas Eve Wedding Cake Delivery
A friend of mine approached me recently and asked if I would make her wedding cake for Christmas Eve.
She wanted something simple with snowflakes on it and red ribbon. The bride requested a layered white cake with a raspberry filling.
Raspberry Filling
Since this was only the third time baking and decorating a wedding cake, I searched the web for ideas. All of wedding cake recipes I found for raspberry filling were not exactly as she wanted, she wanted more of a cheese type flavor. So I came up with a raspberry cream cheese filling with a layer of raspberry jam that was kind of tart. This helped balance out the sweetness of the raspberry cream cheese filling.
Not So Sweet Buttercream Frosting
TIP:
The bride also wanted a butter cream icing that was not so sweet, but more buttery. This really stumped me at first wondering how was I going to make a butter cream icing that was stiff enough and not so sweet. So I did more online research and found that if I add a small amount of popcorn salt to the icing it would cut some of the sweetness. This is what I did and it turned out perfectly.
A Simple Royal Icing Wedding Cake Topper
The bride and groom were pleased with the result as well as the guests. All of the snowflakes were hand drawn with royal icing and then painted with edible luster dust. As an added touch I made an "S" for the bride's new last name in royal icing. She didn't want a topper, just snowflakes so I put the "S" in the middle of the snowflakes to top the cake.
The Snowflakes
The snowflakes were a lot easier than I thought it would be. Since it was my first time making them, I was a little uneasy about how fragile they would be. But they turned out pretty good.
Success
All in all the cake was a success.
And many thanks to my husband for all he did to help me on Christmas Eve to get this cake done and delivered before we had our traditional Christmas Eve Family gathering.