A small, but mighty cake
by Jennifer Eve
(Massachusetts)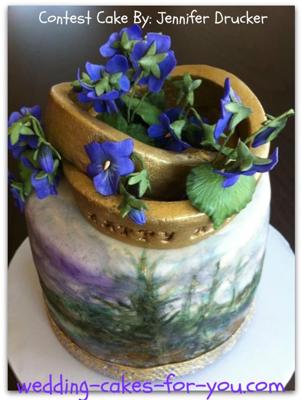 My client came to me because she wanted a unique cake to give her parent's as a 50th wedding anniversary gift.


The Design
The cake design needed to incorporate the following elements: 50th Golden anniversary, Maine landscape, and the watercolor painting that was painted by her grandmother and given as a wedding gift to the couple on their wedding day (50 years ago). I made this client a small, but mighty cake that would feed 10 people and delight everyone.
Cake Flavors
A Lady Baltimore white layer cake, with Meyer lemon curd buttercream and Grand Marnier simple syrup painted on each of the 6 layers. The cake was covered in homemade lemon/vanilla marshmallow fondant, painted using petal, luster and edible gold dusts, and accented with rings sculpted from modeling chocolate and gumpaste violets. The cake was displayed on a cake board covered with assorted silk leaves, and packed for its trip from Boston to Maine.
Intertwined Rings were inscribed with the words, "Happy Anniversary" and "50 Golden Years"
Violets are the 50th anniversary flower and a wildflower that is common to the Maine landscape
I Had To learn Quickly
"My client and I went through a series of design revisions until we arrived at the final design you see pictured here.
My grand plan was to paint the "likeness" rather than a replica of the Grandma's watercolor painting on the cake's fondant covering, and to have violets displayed to look like they were growing wild. But there was a little problem with that plan, because I had never painted a picture on fondant, and didn't know how to make a gum paste violet!
I bet none of you cake artists would dare to sell a cake design that you didn't know how to make 100%, right? - lol.
What was I to do? Well, first I jumped online and furiously bought violet-making materials (gum paste cutters and petal dusts) from Scott Wooley, and an instructional DVD, called "Gum paste Filler Flowers" from Nicholas Lodge, and then I frantically Googled, "How to paint on fondant!"
I ran into some
confusion when Mr. Lodge and Mr. Wooley disagreed on whether gum paste violets should be made with or without stamens, so I flipped a coin, and "with stamens" won. The only trouble, was that my materials were purchased from the instructor who was "anti" violet stamens, so I had to make the tiny stamens from scratch:(
The DVD arrived via priority mail and I begged my toddler twins to swap out Cinderella for Gumpaste Filler Flowers. As it turns out, my kids love watching instructional cake decorating DVDs... Who knew? Later, when my three year old noticed my gum paste sticking, she suggested I use more cornstarch! I guess she had been paying better attention to Mr. Lodge's violet tutorial;-)
The Rings
The intertwined rings sculpted from modeling chocolate presented some challenges too. I needed to somehow make a stiff break-away support for the rings to sit on to keep their shape while they dried for a few days.
The solution was two parchment-lined, perforated (perforated to expedite drying time) cardboard cake circles that were turned incrementally every hour for the first day to ensure the rings maintained their round shape.
So they didn't break apart, the rings on their cardboard supports were propped on a partitioned appetizer dish to dry them at the necessary angles. Then, the ring's embossed inscription was strategically made on day two when the dough was still pliable, but wouldn't risk crumbling or collapsing when the pressure of letter imprints was applied.
The Finale
Finally, with violets made and wired, cakes baked and assembled, fondant rolled and applied, ring topper put in-place, and cake board covered, I took a deep breath and picked up my paintbrush. As you know, I had only one shot to get the free-hand fondant painting right, so the pressure was on! Thankfully, this small but mighty cake came together in the end.
The Journey From Massachusetts to Maine
I held my breath while I waited to hear that the cake had survived its journey from MA to Maine, where it was served to the delighted couple celebrating their 50th wedding anniversary."