A Wedding Cake For High School Sweethearts
by Liz Siers
(Bathurst, Australia)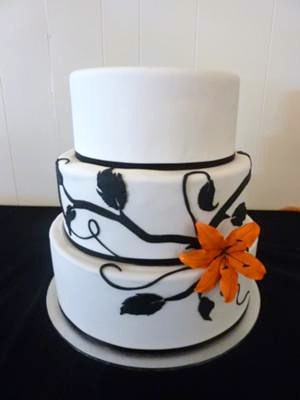 This is the second professional wedding cake I have had the opportunity to make.


It was for a couple of high school sweethearts that I was lucky enough to go to school with - some seven years ago.
I was honoured when they asked if I could make their special cake - I poured my heart and soul into it.
The bride had already chosen her colour theme of black, white & orange. I do not usually use these colours so it was fun to play with them!
When meeting with the couple - they showed me the pictures of what they had chosen, they were very easy going.. they just wanted to get married!
Her bouquet consisted of bright orange Tiger Lillies, and Freesias etc.
The Wedding Cake Itself
The top and bottom tiers were chocolate mud cakes, with the middle tier being my favourite - Caramel mud.
The cakes were 14" round 12" round and 10" round.
I baked and decorated this cake from home (but my parents freezer down the road, was where the cakes were stored) My freezer is just not big enough!
I use chocolate ganache to crumb coat and create tall smooth sides for my fondant to go on. I left it overnight in an air-conditioned room to set.
I then covered all three tiers in white Satin Ice Fondant.
I created the black branches with black Satin Ice fondant.
The flowers I had made earlier and had fun colouring them with
bright oranges, blacks, and yellow powders. I think that's what made this cake 'pop'.
I finished off the tiers with some black ribbon around their bases.
When the big day finally came we delivered the cake to the reception and it looked like it was going back to it's home. The reception was all set up beautifully in the bright colours!
The couple are now happily married.
My Secret Weapon
I have noticed that most cakes on here have buttercream underneath the fondant. I tried this on my very first fondant covered cake and was unsuccessful.(too soft) My ganache is my secret weapon!
My Chocolate Ganache Recipe
is as follows:
Dark chocolate ganache
2 parts dark chocolate nestle buttons
1 part pure cream (I use pure cream because it has a 35% fat content) most other creams do not, I found that they can separate.
I heat up the cream on the stove top until it boils, then I pour the cream over my chocolate buttons.
I stir the mixture and watch it turn into a dark glossy ganache mixture. I then hit it quickly with an electric hand mixer. Once it is completely smooth I then let it set.
Lucky enough in my climate I can do it in the morning and leave it on my bench in the air conditioning. It will be ready for me to use that night.
One last thing... My left over chocolate ganache makes the best hot chocolate in the world! ;)