Avant Garde Wedding Cake - Unique and out of the Box
by Jennifer Riley
(Thunder Bay, Ontario Canada )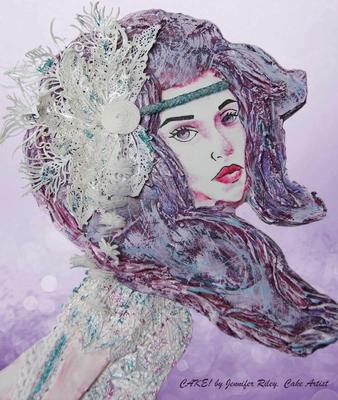 Hello,


My name is Jennifer Riley,
Art is my life, it is my entire heart and I would be completely lost without it. It is my therapy, my happy place and keeps my Mother alive. I am the Owner/Operator of
CAKE! by Jennifer Riley, Cake Artist.
I am from a small town in Canada called Thunder Bay, Ontario. Being from a small town there are not a lot of opportunities in this field to get out there to be seen or have a lot of publicity. So far in Thunder Bay I have Won 1st Place in our Cake Competition, Stole the Show at our Wedding Wishes Show in 2014 (and was interviewed on the News), Nominated for Entrepreneur of the Year and New Business at the Woman Enterprising Awards, Won Best Booth at the Wedding Wishes Show in 2015(and a free booth for 2016), Made Front Page of our Local Paper for making an Ellen Degeneres Cake (3D) in December and was chosen to make the main centerpiece of The March Wedding Show's Cake Dive Contest sponsored by our local radio station 91.5FM.
Cake Dive Contest
This is a cake that I did for the Cake Dive Contest March 6th 2016 at The Wedding Show in Thunder Bay, Ontario. My inspirations were from a Silhouette styled cake I saw Shawna from McGreevy Cakes do on a Wedding Cake and the Water Colour Face Painting class I did with Avalon from Avalon Cakes. I wanted to create something that still connected myself to the AMAZING new friendships that I had the chance to make as well as the experiences on the cruise that will last a lifetime. I also wanted to make something bridal (obviously lol) unique, out of the box and memorable with the brides at the show.
A Meaningful cake
This cake is very special to me, when I look at this piece it reminds me of my new cake family I met on The Crazy Cake Cruise including Shawna, Avalon and Brenda, it reminds me of how far I have come in both my personal and business life, it reminds me that no matter what obstacles this business world has thrown at me I will continue to be strong, hold my head up, ignore and use that energy to keep moving forward.
This Cake was 4 Feet long and 3 Feet Tall
Everything is edible and was painted by hand.
Decorated with Sugarveil with a silicone feather mat that you can find on their website along with the mixture.
Photo Credits: Mike Johnston Photography