Lily's Gorgeous (and delicious!) Ariel Cake
Princess cake
by Sarah A
(Mississauga, ON, Canada)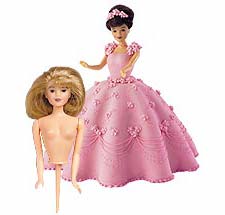 Princess Cake
Hi there,


I was asked to make a princess cake for 6-8 people and so I was thinking of making three 6 inch and then carve/shape it to be the dress part. And I'm also planning on purchasing the mini Wilton doll for the top instead of a real barbie doll.
Are the sizes of the layers realistic? or should I make them a little bigger (may be 8+8+6)? and should I stick to the mini doll or should i get the bigger size? i want it to look proportional :s And how would they have to cut it? horizontally then slices or thin but big slices?
Thank you so much for all your great tips :)
Hi Sarah, I just measured my wonder mold kit and the base is 8 1/2 in width. The very top where the doll goes is 2 in. The length from top to bottom is 6 in. You should be fine with an 8 in cake, a 6 inch and then another 6.

You can get the whole kit (doll included) for $20 from Candyland Crafts, it's called the Wonder Mold Kit. Which would save you a lot of mess. Go with the larger doll. The smaller ones would not be proportionate to the dress.

Good luck. Would love to see a picture of your Princess cake.


Comments


by: Sarah A
I will post it for user :)
And thanks again

Sarah A

Yes to The 8 Inch cake
by: Lorelie

I think I would add the 8 inch cake to keep it proportionate. Otherwise she may look too short. I would LOVE to see the final outcome of princess cake.

Good luck hope to hear from you when it is all over. PWHEW!!!

Another Question
by: Anonymous

Hi there,
Sorry for all the questions... As I was shopping for the doll I found a glass oven-safe bowl that is around 7 1/2 inches round from the bottom and 2 1/2 inches on top and around 4 inches high. I calculated that it will probably get me

8 servings; does that sound right? or should i add an 8 inch round cake to the bottom and cut off the excess?

Oh ya and I almost forgot to mention that I did get the big doll not the mini (because they were for cupcake sizes).

Looking forward to hearing from you,

Sarah A



Submitted by: Anonymous
Thank you for your helpful tips :)

Plenty of cake
by: Lorelie

Hi Sarah, yes this size princess cake will be more then you need . Sorry I forgot to address that part of your question. You had said the cake was for 6-8 people. You will get more than that out of it.

To fill and to cut the cake Slice and fill the cake so it is three layers of cake and two layers of filling. To cut the cake just slice it straight down an cut the pieces in wedges . The pieces will be high, but you can slice them thinly if you want to.

Hope that helps. You can make the cakes smaller and use the mini doll picks. I have never used the little ones so I am not sure what sizes to tell you to use for that one.
Good luck :-)

Thank You
by: Sarah A

Thank you so much for all the detail :-)
I did look for that kit in the craft stores near me but didn't find it (not even the pan on it's own) :(. So i will probably try the 8, 6, 6, cakes.

Affiliate Disclosure

Some of the links on this page are affiliates. This means that I will receive a small commission if you purchase a product through them. There are no extra charges for doing so. This helps me keep the information on this website free of charge. Because my name is attached and your satisfaction is very important to me, I only recommend products I have purchased or would purchase myself and which I believe you would benefit from. You can read the full disclosure policy by clicking here.
Join in and write your own page! It's easy to do. How? Simply click here to return to Princess Cakes.
Lily's Gorgeous (and delicious!) Ariel Cake
by Jennifer McCann
(Bethel, CT)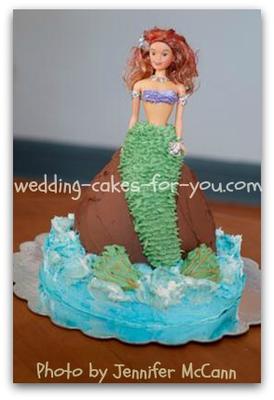 For my daughter Lily's 3rd birthday, she had asked for an "Ariel" cake- and Lorelie made this gorgeous Little Mermaid for us.

Lily was fascinated with it and couldn't keep her hands off of it- I spent most of the morning trying to keep her from sticking her fingers in it, but poor Ariel lost one side of her seashell bra, and had her body pulled out before the party even started! I had to do a quick patch up!

Once the party started Lily and her friends must have been pretty sneaky, because when we moved the cake to put in front of Lily to sing Happy Birthday, about 20 little fingerprints appeared on the back.! Everyone was laughing- because who could blame them for sneaking some icing, it was just too irresistible! It was a hit, and delicious too!

Comments
So cute!
by: Lorelie
Thanks Jennifer for a really great story. I was thrilled to have made your beautiful Lily her Ariel cake. And I love mermaids so it was a really fun to make.
The pictures alone tell a sweet story. Thank you for contribution to Wedding Cakes For You!
Join in and write your own page! It's easy to do. How? Simply click here to return to Princess Cakes.
This article was printed from Wedding-Cakes-For-You.com