Beach Wedding Cake Bliss
by Karen Wellington-Gibson
(Jamaica)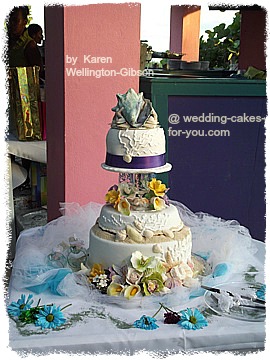 Nordy's Beach Wedding Cake
Nordy's Beach Wedding Cake Story
My niece and her fiance, went thru a very rough patch to get to their special day. This trying period for them was only made lighter by the fact that the families on both sides were rooting for them so much, not only because she was a favorite niece, but the fact that it was so obvious how much they loved each other.
My niece has been dreaming of a beach wedding since she was a little girl. She had everything planned out in her head and on paper as to the perfect way to make this dream come true. So when she told me, it was time, and I should get ready to bake her 'dream Wedding Cake,' I was just ready and rearing to go.
Of course, when she told me her colours were those that reflected from our Caribbean waters, I was like "Wow, now that's a challenge" Think of turquoise blue and green, aqua blue and green, a dash of purple and a little (very little) sparkle of gold.
Well, I got to work. Mark you, I'm new in the business, and just a little overwhelmed, but because it was her, I rose to the challenge, and was determined to make it the best beach wedding cake ever. Lord, how I sat for days trying to make, or to figure out how to make that conch topping.
Unfortunately, I wasn't that skilled yet, so,in the end, I opted for a real Conch sprayed with edible colours. Using only two colours I managed to mix and dabble until I got the right shades, then I brushed on some gold shimmer dust, voila !!! it worked, I had a cake topper.
The gumpaste was made from scratch for the flowers, shells and starfish. I was actually assembling the cake at the wedding when I realized I didnt have seaweeds, so I used the royal icing I waked with for 'just-in-case' purpose to pipe them on the sides of the cake, and, of course, there's no sand like brown sugar sand. You can view the finished beach wedding cake above in the photos.
Thank you Karen for a great romantic story and a beautiful entry to the wedding cake contest. You rose to the challenge and created a dream cake. Good luck in the contest.