Chocolate Mousse Recipe For Filling
by Dora Melton
(Quincy,Fl.Gadeden)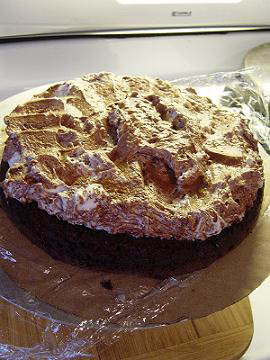 Hi, On your Chocolate mousse recipe for filling it said to multiply recipe times 2. Is that each ingredient or for each recipe?


Hi Dora, To answer your first question, yes it does mean to multiply each ingredient by two.

12 ounces bittersweet or semi sweet chocolate


1/2 lb of butter (unsalted)


6 eggs separated


4 T sugar


1 1/2 cups heavy cream


1 teaspoon vanilla
Can this recipe be used for any size and any shape cake?
Yes you can use this chocolate mousse recipe for any shape or size cake.
What is bittersweet chocolate?
Bittersweet or semisweet chocolate is less sweet. They both will work for this recipe. The bittersweet is the lesser sweet of the two. I prefer that one. You can find it at any grocery store, but try to get a high quality brand such as Ghiradelli.
I don't have one of these mixers. I have the regular stand up kind.
You don't need a fancy mixer. But you may have to make your mousse in smaller batches. The recipe as is or times 2 will not be a problem. In fact you only need the mixer for whipping the egg whites and the heavy cream.
Can I put raspberry filling on top of this chocolate mousse recipe?
If you use a jam or preserve then I would put that on the cake first and then put the mousse over it.
I'm not to good at math so to make a four inch cake. How much do I need for a 6,8,10,12,14,16 and 18in. cake? And how long does it keep?
You will probably need to multiply the recipe by at least 7 for that amount of cake. You said the cakes are four inches. I think you mean four inches high. I am assuming you are cutting your 4 inch cakes in half and filling them with one layer of filling. This chocolate mousse recipe will last for at least a week refrigerated, probably longer.
If this is too much to ask I'm sorry but I've been looking for a good recipe for a long time. Thanks
It's never too much to ask. You can ask me as many questions as you want. Well you came to the right place to find a great chocolate mousse recipe. This one is sooooo good!
Cake Filling Recipes Question
by Dilara
(Germany)
I love to bake and have been searching for recipes for wedding cakes. Mostly what I am looking for are a variety of creams and decoration ideas. This is a beautiful question page that has great chemistry and asks them all. My question to you is which cream can be used inside of the cake.

I would be delighted if you would write a few different variations for the fillings inside.

Many thanks from Germany in advance

Dilara

Dilara, Thank you very much for your lovely compliments on my wedding cake website. Slowly but surely I am building a repertoire of recipes and my fillings page, I admit has had a slow start. But now that you ask I will add a few cream style fillings to the cake filling recipes page for you.






Chocolate Mousse Recipe question
by Ilona
(PA)
Your chocolate mousse recipe request eggs, should I get chocolate very hot so it cooks the yokes? Is it safe to have egg whites not cooked? Sorry, those are silly questions...i just don't want anybody to get sick...
thank you.
Ilona

Hi Llona, They are not silly questions. You can get eggs that have been pasteurized in containers to be on the safer side. But I use fresh eggs from the grocery store and have never had a problem. Just make sure that you use very fresh high quality eggs and store them properly.

I do add the yolk to the hot melted butter and chocolate mixture, but not too hot as they will get scrambled. The sugar in the recipe also acts as a preservative for the whites. Then make sure that you keep the mousse itself nice and cold. I fill my cakes right away with the chocolate mousse and then freeze them. Thanks for a great question about the chocolate mousse recipe.