First Wedding Cake
by Tami Brown
(Gilroy, CA)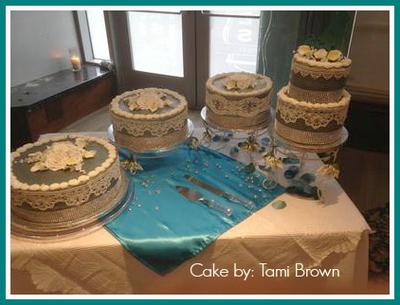 Every Bride Deserves A Wedding Cake
No to the Fake Cake
I started cake decorating when I was just a teenager but never really did much until about a year ago when I decided to actually take some classes. My co-worker was getting married and asked me to make her a "fake" cake (made with frosted and decorated cake forms ) for her wedding at the restaurant where her reception would be. The restaurant staff would be serving some cake to the guests as dessert. I told her no, as I believed every bride deserved their very own wedding cake and as my gift to her I would make hers.
Since this was my first time I was terrified to stack this cake, so we decided on a cascading design with only the top two levels being stacked.
Flavors
The bride and groom wanted a marble flavor filled with (Lorelei's) Chocolate Mousse. I used American Buttercream tinted gray, per the bride's wishes, made the sugar lace and (purchased) the gumpaste flowers.
Since I work full time (day job) and only do baking/decorating part-time I started baking the cakes about a month in advance. I would bake on the weekends, and after they had cooled wrapped each layer in plastic wrap then in aluminum foil before putting them into the freezer.
A Cake Decorating Tip
I also had to make the sugar lace; after watching many "how to" videos online, I finally mastered how to make the sugar lace.
One good tip
is to spray your molds with a non stick spray then brush them with a pastry brush to even out the spray before pouring your sugar lace (I used Sugar Dress).
I loved how it came out and more importantly, the bride and groom loved it too. In fact, on their honeymoon they called me and asked if I would bring their top tier so they could eat it when they got home they just couldn't wait a year before enjoying it.
Hi Tami, Thanks for sharing your first wedding cake with us. It's very beautiful. I love that you said NO to the bride LOL!!! She must have been thrilled when you said you would make her a real cake. And of course I was happy to hear that you used my chocolate mousse recipe to go with the marble cake. Will you be making more wedding cakes? Somehow I think you will. Thanks for the tip too :-) >