Handmade Wooden Cake Stand
by Deena Masters
(Chaffee, MO)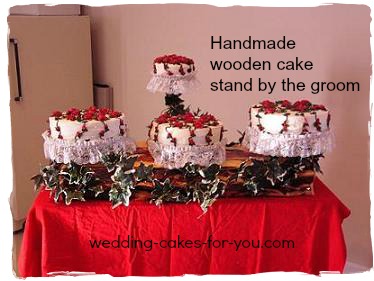 Handmade wooden cake stand made by the groom
The groom takes it to the next level with our handmade wooden cake stand. We wanted a different and unique wedding cake since we both have been married before.


We were thinking of a camouflage theme but then things changed. We still wanted our cake stand idea to remain the same.
We had a cedar tree in our back yard that we had been planning on cutting down anyway, so we cut the tree to lay flat.
The only thing on the stand that was not a part of the actual tree was the cake plates and of course the greenery. The groom applied about 10 coats of polyurethane onto it, to give it the illusion of water.
He did an amazing job on our homemade wooden cake stand. So we have a one of kind unique wedding cake stand that can also be used as a plant stand, hold knack knacks, or whatever we want.
Comments
Great cake decorating !
by: Lorelie
Jennifer you did a great job with your cake decorating. I know how much work is involved with making all of those buttercream roses. Deena and her groom are lucky to have you to decorate the wedding cake. The stand is so creative, I love it!!!
Bride and Groom
by: Jennifer
I am Deena's sister. I decorated the cake. I loved having this cake stand to play with. You could have done so many different things with it. The groom did an excellent job.
by: Lorelie
Wow Deena tell the groom he did a fabulous job with the handmade cake stand. Its unique and very special. Thank you so much for sharing that with us.