Layering A Hello Kitty Cake
by Samantha
(TN)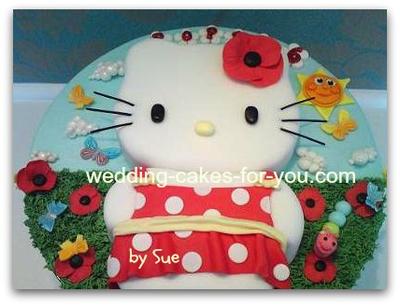 Hello Kitty Character
I have a shaped hello kitty cake pan for my little girl's b-day (tomorrow). It has raised areas for the bow, eyes, etc. Would it be possible to make it a 2 layer? I may have more guests than planned.


Hi Samantha, I think rather than layering the Hello Kitty cake, I would probably make a larger one for underneath it and place it on top of that cake, as in the photo above.

Do you have a 14 inch round or maybe even a 12 inch round or square pan? Otherwise it may look a little strange if the sides are too high.

The other option is possibly to cut the single layer and make two thin layers with filling. But it really won't give you that much in extra servings.

If you do decide to bake the bottom tier, make sure you put the Hello Kitty on a cardboard that is cut to fit the shape. Then a few plastic straws should be used as dowels to place into the bottom cake for support. I use a sprinkle of coconut to keep the cardboard from sticking to the buttercream underneath as well, or you can use graham cracker crumbs.

There are a few examples of Hello Kitty designs here in case you have not seen them yet. And I included a tiered one that I made recently. Unfortunately I forgot the whiskers oops. But no one seemed to care or even notice.

I'm not sure if you have just the head or the body, but either way you can add a background like the picture above. I love the way She made the grass, flowers, caterpillar and sun.

Here is another tiered Hello Kitty design that was submitted here. She also added a buttercream version of just the head. It actually looks as though she may have layered it so you can see what that looks like as well.

Good luck with what ever you decide to do. Please report back and send in a photo. I and all of my visitors would love to see it and hear all about it.