Make Your Own Wedding Cake Donna

Follow Donna from Washington as she takes on her "Make Your Own Wedding Cake" Challenge.

Her goal - A 3 tier wedding cake for a friend that doesn't look like the Leaning Tower of Pisa!
Donna's Story Begins Here...

A couple of years ago I decided to try to make a 50th wedding anniversary cake for my parents. It was a 3 tier cake. I couldn't afford to buy what I wanted and thought, "Hey, I can do this!".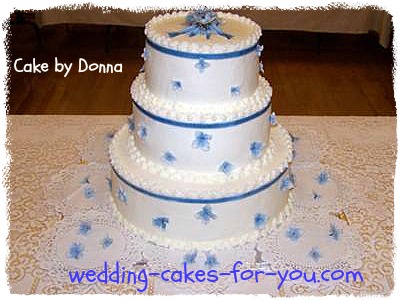 So...with a lot of research, I followed directions on how to make your own wedding cake on-line and went for it. Long story short, everything turned out great...until...the frosting!
Guess the cake icing recipe I made came out too soft cause it kept slipping and sliding and took a lot of work to get it even a little bit acceptable. The cake ended up kinda lumpy looking and sorta' like the Leaning Tower Of Pisa! The good news is that everybody LOVED the taste!
A friend asked me to make her wedding cake YIKES!


She assured me it was going to be one of those small wedding cakes for a small wedding...yeah right...it's growing as we speak.
I'm pretty nervous, but I really want to do it for her. This time I'm going to make a couple of test cakes first and follow Lorelie's suggestions of freezing the cakes before frosting and using a different icing recipe.
So...I will update as I go to let y'all know how it comes out. Right now the cakes are in the freezer and in a couple of days when I get time I'm going to give them a crumb coat.

Donna

From Kent WA
Donna's Leaning Tower Of Pisa



This was my first attempt at making a three tiered cake.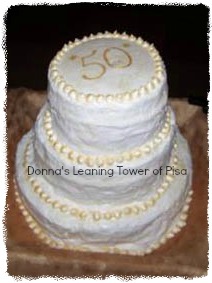 Donna Blogs about her "Make Your Own Wedding Cake " Challenge experience below. You can have your own cake space too. Contact me if you would like to have access to a personal blog so that you can tell your cake stories as they happen.

This article was printed from Wedding-Cakes-For-You.com