My First Wedding Cake
by Liz Siers
(Australia, Bathurst NSW)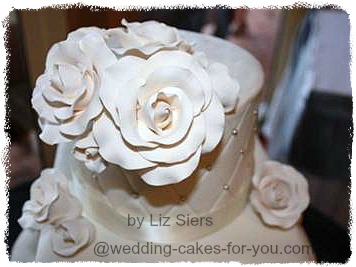 This was my first wedding cake!!
As I'm sure you are all aware - the first wedding cake can be pretty scary. (I kid you not - I had several dreams ending in destroyed cake - I used to have to check as soon as I woke up that they were still ok)
After reading the lines above. I am so happy that it was a success - and more importantly, that I had a very happy Bride.
Ask Questions
I had posted on
Wedding Cakes For You
about which sized pans I should use - and was given some very useful information from some very kind cake decorators!
I have not been baking or even using fondant for a year yet, so I felt WAY out of my depth)
Special Order
The bride was a celiac and had ordered the following;
Top tier (Gluten free choc mud)
Middle tier (Banana)
Bottom tier (Caramel mud)
Ganache and Fondant
I used dark chocolate ganache underneath my fondant to seal the cake, and give it sharp edges (making sure that the dark chocolate was gluten free too)
The Wedding Cake Design
I used ivory fondant to match her dress, and Satin Ice because it is safe for celiacs.
She loves the look of mixed shape tiers as she wanted to be a little bit different - and like the elegance of quilting.
She also asked for the initials in bling, and plain roses.
This is the design that I came up with - I definitely took ideas from other cakes.
The quilting tool that I used is metal and has three diamonds stacked on top of each other (I LOVE THIS TOOL)it made my job so easy.
I used wooden dowels in the tiers to secure them.
The flowers are also made from ivory gum paste to match the cake.
I used silver cashews in the quilting and for the initials.
I learned SO much making this cake - lots of do's and dont's for my future designs!
I Love Cake Decorating
Cake decorating is my happy place and I am so blessed that I can make other people happy by making them a cake.
Thank you
Wedding Cakes For You
for helping me through my first wedding cake order!!
Thank you Liz for joining in the contest with your beautiful First Wedding Cake. It's hard to believe it is your first one. The gumpaste flowers are great. Well done! Good Luck The contest is ending on this Sunday March 4th. Good luck. ~Lorelie~