Organic Wedding Cake
by Michele Owen
(Beachwood Ohio)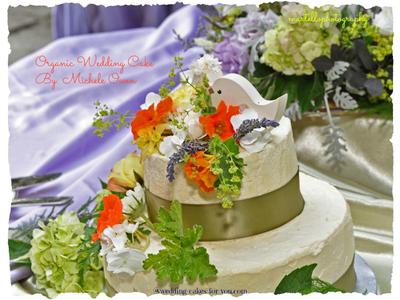 The Finished Organic Wedding Cake
The bride and groom requested a small organic wedding cake for their June wedding.


Cake Flavors
After the tasting they decided on my vanilla spice cake for the bottom ten inch tier and the marble for the top six six inch tier.
The vanilla spice cake recipe begins with a standard vanilla butter cake. I add a nice amount of cinnamon, a few scrapings of nutmeg, and a teaspoon of my secret ingredient - cocoa powder.
The combination creates just the right amount of warm undertones while maintaining the wonderful vanilla flavor.
The marble cake also begins with a vanilla butter cake. I remove about a third of the batter, add cocoa powder,
(Hershey's Special Dark)
and swirl it into the rest of the batter.
Cooked Buttercream Icing
The butter cream is an old fashioned style that is cooked. Apparently this particular icing came about during the second world war when rations were low.
It is silky, not too sweet, easy to make and lends itself to a variety of flavors. Adding cocoa powder and semi sweet chocolate makes for a luxurious chocolate frosting. I have included the recipe at the end of this post for you.
I tiered the cake and attached the ribbons. The florist added the flowers giving it a truly organic look.
I have included an "unadorned cake" and an "adorned cake" photo.
Delivering The Wedding Cake
Transporting the cake was quite an adventure. My niece has a van and helps me
deliver when she is available.
This Saturday in June was HOT. The venue was at Holden Arboretum and very difficult to find. It seems there are two of everything (roads and landmarks) in Kirtland Ohio!
We kept driving up and down the wrong road and there was a field where the GPS said the building was located.I was holding the cake, we had the air blasting, and both of us were freezing for the sake of this wedding cake.
An hour later the organic wedding cake was safely delivered and set up at the venue. My niece and I were happy yet shaken. I have never been so relieved to reach a destination.
Credits
-Photographer is Heather Martello martellophotography.com/
Florist is Carol of Avalon Gardens
avalongardensinn.com
The Cooked Vanilla Buttercream Icing
Ingredients:
2/3 cup sugar
1/4 cup flour
1/4 teaspoon salt
3/4 cup milk*
1 cup butter , softened
1 teaspoon vanilla extract
Makes:
2 cups
Instructions:
Place sugar, flour and salt in saucepan and mix thoroughly, stir in milk.
Cook over medium heat and stir constantly until very thick.
Remove from the heat and pour into a medium mixing bowl.
Cool to room temperature.
Add 1/2 cup butter at a time (cut into several pieces) and beat at medium-high speed until smooth.
Add vanilla and beat well.
Chill icing for a few minutes before decorating.
Tip
*I like to replace milk for either unsweetened coconut milk, cream, heavy whipping cream, or a combination of both. It tastes much better!