Outdoor Wedding Cake
by Julie Mikula
(Tinton Falls, NJ)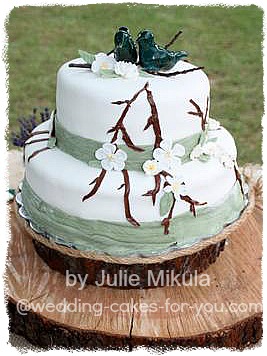 Designed With The Outdoors In Mind
Inspiration:
Our son proposed to our daughter-in-law in June 2011, and decided that an outdoor wedding would be most suitable to both of them. Having grown up with a camping family, Taralynn thought it might be a good idea to have it at the campground resort that they always went to. She and Doug visited her parents who were camping out for a weekend and decided that the huge field surrounded by trees and a few cabins would make the ideal spot for a wedding.
A Unique Wedding Cake Topper
Since there would be a dessert tent with lots of other desserts, we decided to make it two tiers, one 8" and one 12". Both of us were taking a pottery class, so we thought it might be a good idea to try making pottery birds in class and place them on a branch for the topper.
A friend of mine was cutting cherry tree slabs for centerpieces, so we thought it might be good to put the whole cake on a wood tree slab. We also wanted to keep it simple, with a green fondant band around the top and bottom tiers with a design pressed into it-a leaf design would be perfect if we could find one.
Perhaps there would be a few fresh or fondant flowers on the top by the branch and some on the right of the middle tier and left of the bottom tier.
Baking and Decorating the Cake:
I had done a few wedding cakes before, but they had been buttercream. Since it would be outdoors, Taralynn requested fondant icing, with her favorite cake,
red velvet.
I had never made a red velvet cake and didn't know how it would hold up under fondant. I also had no prior experience with fondant and was scared to death of making and using it.
I wanted everything to be homemade, so I tried Paula Deen's red velvet pound cake recipe. It was dry. I ended up using the Duncan Hines recipe for pound cake which added an extra egg and a box of vanilla pudding mix. (I looked for white chocolate but couldn't find it).
I even made two different batches of fondant- one with marshmallows, and one with gelatin. Both kinds broke when I tried putting them on the 8" cake. The one type of fondant that held up was one called
Satin Ice
that I had ordered online. It went on beautifully, but I had only gotten a small container of it for fondant flowers. I had to travel a half an hour to a cake decorating store to get another to put over the 12" round. It worked perfectly, was easy to roll out and manipulate. It also tasted good. Lots of people commented on the good taste. I didn't tell them I bought it.
A few days before decorating the cake, I used a small flower cutter and cut some white fondant flowers with light
yellow centers. I also used graduated cutters with plungers and made a few white mums.
I found a Wilton leaf vein press and tried putting that design on a juniper green band for around the tiers. It looked artsy, so I decided to go with it.
'
Each tier had 3 layers with fluffy white frosting between them. The outside of the cake and dam holding the fluffy white icing in was made from homemade buttercream using a high ratio shortening in case it was warm- we didn't want any melting.
The Satin Ice fondant went on smoothly, and then I put 4 dowels in the bottom tier, and I put a long dowel through the center of both cakes for support. On the outside I rolled out two green bands and pressed them onto the Wilton leaf impression stamp. I attached them to both tiers.
Lastly, the fondant flowers were place on the 2 tiers and it looked simple, but elegant. I put a wire around the branch and stuck it into the cake. Then I put clay inside the birds since they were hollow, and put a piece of fondant underneath of them. I stuck a wooden skewer into the bottom of each bird and placed them into the top layer near the branch so it appeared as if they were sitting on the branch. Finally, it was ready to be transported the next day.
Transportation Nightmare:
Before we left the house I could see that one side of the cake began to bulge over the green band. I made sure to bring extra green fondant in case I needed to repair it after transit. I also brought a can of chocolate icing and some icing bags with me.
On the way to the campground, I could see the fondant beginning to crack a bit on each side. I panicked and wasn't sure what to do. Once we got to the little cabin my husband and I were staying in, I looked at the damage and decided to put a whole new green band over the existing one to cover any bulging. It worked.
Then, I decided to use the chocolate icing to cover the cracks creating a branching effect. I put extra fondant flowers on the icing and that seemed to do the trick. A friend of mine hot glued twine around the bottom cake boards to hide them, and we placed the cake on a small tree slab.
My husband carried the cake from the cabin to the dessert tent and placed it on a large tree slab that was waiting for it. It looked good and no one could tell it had been less than perfect an hour earlier.
Julie, Thank you for being the first wedding cake contest entry. Your outdoor wedding cake is very beautiful and elegant. I love the woodsy natural look. Your story is helpful with tips yet interesting with some twists and turns. Good luck.