Peacock pride
by Danya Ho
(Kingston Jamaica)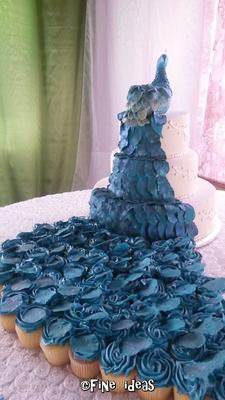 "I must have a peacock for my wedding cake"


Those were the most terrifying words I had ever heard from a bride to be.
What exactly was is thinking of when I accepted the challenge? Day after day I scoured the internet , viewed countless " how to" versions of making a Peacock wedding cake.
Sleepless nights and fretful days ensued. Then there was resolution. "I am the creator" why am I cowering in trepidation? And so the journey began in earnest.
Moulds were bought on Amazon, petal dust samples flooded my shopping cart, oodles of dawdling became the order of the day. I ate slept and thought "Peacock"
Finally eight days of construction began. Pounds and pounds of gumpste and fondant fashioned into one very proud looking peacock.."Peakie" as he became known as was taking form.
A nervous bride wanted a step by step progress report and so she was afforded the requests. Three hundred feathers each one hand painted and attached , countless bamboo skewers inserted to keep that proud look. Five hours on one tier attaching each feather with precision.
Eight hours later "Peakie" was ready for the long arduous journey from Kingston Jamaica to Ocho Rios Jamaica.
The final touches had to be done...seventy cupcakes arranged to depict his feathers fanned out each cupcake adorned with a feather sculpted from gumpaste and painted with petal dust and vodka. Oh what a regal affair. It was at the point of display a name emerged. "Peacock Pride"
A word from Lorelie:
Hi Donya Thank you so much for adding your awesome Peacock wedding cake and cake adventure to the website.
I think you have a gift for storytelling :-) You are truly brave to take this on. It does sound like it was fun and worth all the effort. I wish we could see the details more. If you have a close up of the details please send them to me through my contact page.
What flavors were the cakes, just curious...and was the bride completely blown away?