Rustic Elegant Wedding Cake
by Holly Smith
(Santa Rosa, Ca)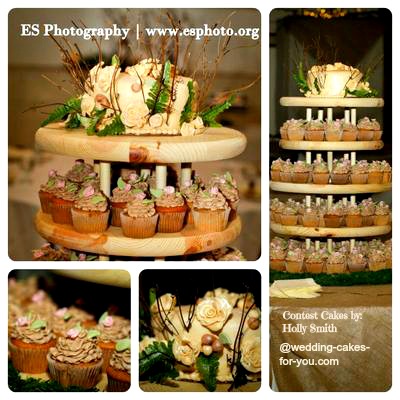 Professional photographer shared some great pics with me!
This rustic elegant wedding cake was for a young couple that had wonderful taste. They wanted their cake to be a 6" round as the top of a cupcake tower, which consisted of the top 6" bride and groom cake and 12 DOZEN cupcakes that I hand decorated with fondant rose buds and leaves.


Champagne and White Chocolate Raspberry
The flavor of the Bride and Groom's cake was a champagne recipe that I filled with a champagne and white chocolate raspberry buttercream. It was covered in ivory fondant, pearl dust, hand made fondant roses, fondant beads, fern and branches they requested for the rustic feel.
The cupcakes were Snicker Doodle and frosted in Snicker Doodle buttercream. Each one was topped with a hand made fondant rose and fondant leaves with edible glitter.
A Dream Come True
This was a special wedding. I designed the cake and cupcakes myself. It was the first really big wedding I have done. Most of them have just been small and intimate. When I stepped away and saw my creation on the tower with the tablescape and the room filled with guests............I got choked up! This was my total dream!! It was so fun setting it up!
The Inspiration
The inspiration for this was nature and rustic elegance. The couple just graduated college and are big into the arts. Music, acting, etc. They like plants and succulents. They did not want anything white. So, I made the fondant ivory.
Fondant Roses
I made the fondant roses by hand. First, I did the petals one by one. I let them dry and set up and dusted them with pearl dust. It really brought out the ivory color and added the bit of elegance it needed.
I let the petals curve, then rolled, nipped and tweaked each one. I then built the roses. I love the rolled, tight center look. All in all there were 144 mini rose buds by hand. I think my hands are still numb! haha.
Cake decorating Tips
To make it more organized when making fondant details for this many cupcakes, gather and organize everything you need before you sit down.
I used the Americolor gel in mauve pink and avocado green ( my total fav green!) I had my petal dust and brush. Clean mat, rolling pin, pizza wheel ( cuts Great strips of fondant!!), leaf cutter and a couple sheet cake pans.
Color the Fondant First
First color your fondants, knead, cover, and set aside.
*** TIP*****
It actually works better if you let it sit out for 20 minutes or so. This way it does not have the fresh, sticky feel and is easier to work with!!
You don't want to spend all your time counting and re-counting. Making too many is costly and time consuming. Making too little is time consuming because you have to go back and make more and you might not have enough fondant in the
same batch you colored!! This can make your colors be off if you re-color a new batch!!
So the best organizing tip for making 144 rose buds
is to go to the multiplication table system. Start doing your rose buds for cupcakes. Figure out how many you will need. Do a row across to see how many fit in that row across. Then times by the number that will make the total you need. That number will be the "down row".
Then it is all counted and all you have to do is be neat in placing them directly under the top one and next to the row going down! You can concentrate on making great flowers and get into a good rhythm!!!
The wedding ceremony and reception was in a lodge. The ivory fondant, ivory and burlap tan fondant balls were perfect. The fern was then added and dusted with petal dust as well!! The effect was beautiful.
I created ivory fondant roses to top off the cake and put them around the sides to form bouquets of roses, fern, beads, and sticks. The Bride and Groom requested ivory cups for the cupcakes but it was too late to order online at this point so...
TIP
I used the white liners and the batter naturally "antiqued" them.
Shabby Chic
Each cupcake had the rose bud and one or two leaves. They wanted the shabby chic look that I love. It just went so perfect together. I was unsure of the sticks, but once I got to the venue, I went with my gut to add them and it all tied in to the rustic elegant look! The best man made this wonderful pine cake tower by hand!!! They added moss around the bottom level!
One More Cake Decorating Tip
LOL! When decorating this many cupcakes that need to travel, I found best to buy the clam shell containers. Each cupcake goes inside after cooled. Then you can eliminates having to wrap them in foil. (Saves a step and profit) When it came time to frost, use the guide line to keep them uniform. They also don't get messed up transferring to the clam shell!
When it came time to put them into the tower, they came out nice with no icing bumps. I also knew they were not too big to fit in the shell and bump each other. Then apply the fondant decor, close each one up and refrigerate. It's great way to keep count as well.
For Delivering Cupcakes
Add the rubber mats that have holes in them. You can buy the mats at the Dollar store or Wallmart. People use them to line shelves. They are in the shelf and drawer lining dept but come in a roll like the tact shelving paper. Because it's rubber it creates a great grip on the floor of your car or van for deliveries and cakes won't slide!!! Thanks for letting me share!