Sand Castle Wedding Cake
by Deanne Wiens
(Bismarck, ND)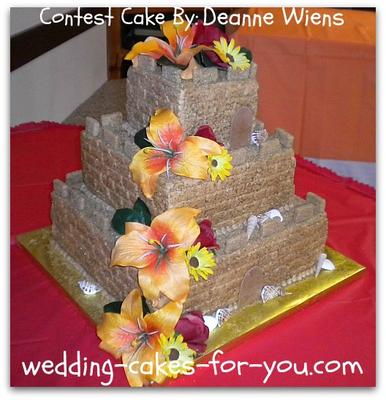 The sand castle wedding cake was for a wedding that was on a beach in Mexico. The reception was to follow back home. I assumed it would be a clean, white cake with beautiful flowers that screamed "tropical" and "beachy".


I had a vision in my head and I was excited to make it great. Until my sister said, "You should make a sand castle cake".
She's so funny - and so in trouble
because the bride liked that idea so much that next thing I know, I am searching online for ideas for wedding cakes that look like sand castles.
I went to my local cake store where the owner also teaches cake decorating (I've taken three Wilton classes from her and wanted her opinion on the sand castle idea.)
Here is how our conversation went.
"How would you make sand for a sand castle cake?" I asked.
"What's it for?" she asked.
"A wedding" I replied
"Oh, they don't make for very elegant wedding cakes", she retorted.
I guess if your theme is not a beach theme then yeah, a sand castle cake is not the best route to go. But considering the wedding venue and knowing the bride and groom on a personal level, it was the perfect idea and
I was bound and determined to hit a home run on this one,
no matter what she said.
Square Wedding Cakes?
My first dilemma
...the tiers would be square. I am not a fan of the squares. I like my rounds. But I convinced myself that having perfectly smooth frosting won't be such a big deal if you have sand smashed into it. So ok, square would be fine this time.
Gold Sugar and Chocolate Cheerios!
I didn't want it to be too "flat" - it should have some depth to it, with a variety of colors that you find at the beach, some contrasting dark and light colors like the beaches of Mexico. It should also have a bit of a shimmer to it, as if the sun was shining off of it.
I wanted it to look like, well, sand. From the beach.
I wanted people to say "it looks like real sand!" and then ask me what it was made of and see a smile on their faces as if they were amazed at my clever artistic-ness and creativity.
So gold sugar and chocolate Cheerios it was. Graham crackers didn't have the variation in color I was looking for and Teddy Grahams, well, they weren't as cheap as a box of Cheerios.
Chocolate Cheerios had a variety of colors in every box - but my anal self decided that the darkest of little O's were too dark. So I segregated the dark chocolate O's (in an attempt to not be racist with the breakfast cereal, I did eat all of the singled out Cheerios for breakfast the days that followed). The Caucasian colored Cheerios went into a food processor. Toss in some gold sugar and ta-da! And then there was sand.
Decorating Day
I was pumped and ready. I had my sandy Cheerios and my tan colored frosting and I was going to town! I thought I was being smart and bought a sugar shaker thing to dust my cake with the sand - NOT my best idea! I got about 10 granules at a time. I had to come up with Plan B. I took my fondant smoothing tool and set it at a
45 degree angle to the cake and poured the sand against the cake and tool and smashed the sand into the cake as I moved the tool up the sides. This posed one serious problem - I was going through my sand quota faster than anticipated!
I needed reinforcements so I called my sister,
who is also my co-pilot on cake deliveries and set-up. I needed some Cheerios stat! She came over with her husband and I watched in amusement at them sorting Cheerios at my request. What other odd things could I make them do? Their sorting abilities productive - I had more sand.
Bricks
The cake needs to look like it was made of bricks of sand. I had been online and in the cake store and hobby store weeks before Decoration Day looking for something I could make bricks with. They make plastic sheets you can press into fondant but the bricks on those sheets were way too small.
I looked through my collection of cake decorating gadgets and what-cha-ma-hoozits and found nothing.
I started looking around the house, expecting to open a drawer or cabinet and see sunbeams and hear angels as I spotted the perfect item for which to make bricks. And then, as I imagined, I pulled open the junk drawer, the one that you have to jam your hand into to move things around so you can actually pull it open all the way, and there, shimmering like sunbeams, was my tool.
Seriously, it was shimmering - it was a shiny metal tin and the fluorescent lights of the kitchen drew my eyes to it. A smallish, brick shaped friend that held breath mints, Eclipse mints to be exact. It was perfect! After the tiers had all been frosted and coated in a delicious blend of sugar and Cheerios, me and the mint can got down to business.
I pressed each brick shape into the sides of the cake.
It worked like a charm.
I then put my sister to work, after the Cheerio-sorting task, to make extra bricks to place on the edges of the tiers. They were cut from fondant, sprinkled with a little water, and dredged through the sand. In hindsight, sticking toothpicks into them would have been ideal, as then they could have been stuck into the edges of the tiers. More on that later.
Delivery day
The wedding party was at the reception hall decorating when we showed up.
An audience - the nerves started in. And just like James Bond has his Bond girls and his 'shaken not stirred', I too, have a calling card.
This time was no different and just like clockwork, my finger went through the side of the cake. It happens so often that I am more surprised when I don't leave a hole. That is when I usually say, 'well, that will be the back side.' This time the hole was a perfect spot for a flower to go.
After the tiers were stacked we got to stacking the bricks around the edges. I suppose they could have been wider, like a brick, but I was going for just a visual of a brick on the edge. We piped out some butter cream mortar and said a prayer. For the most part, they stayed in place. I was satisfied.
The rest of the flowers and some real seashells and it was done!
A beautiful (and somewhat elegant) sand castle wedding cake for a beach themed wedding.