Seashell Wedding Cake In Florida
by Amanda Willey
(Edgewater, Florida, USA)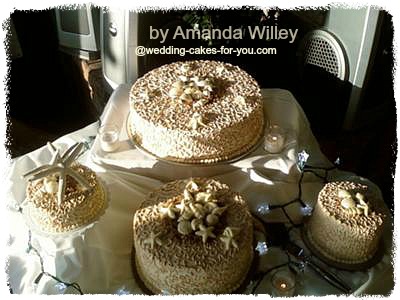 Fully assembled
I call this
Seashell Wedding Cake
Floridian Tide
.
A friend from work asked if I could make her a tiered wedding cake. Her wedding was on the beach so I did a beach themed cake. The cake was going to be in the heat, at the restaurant that we work at on the river.
The pastry chef declined to make the cake, for fear of the cake melting and ruining her reputation.
REALLY??
This made me a little nervous.
This was only my 2nd wedding cake, and the first one, that I would use all icing and melting chocolates with molds.
Tropical Wedding Cake Flavors
The cake is a white cake with a pina colada filling. I used a Coco Lopez and white chocolate with gelatin for stability. The frosting was a basic butter cream tinted with brown gel.
Wedding Cake Design
I used a cornelli lace design that I learned from the Wilton method books. I needed sand incorporated into the theme, so I toasted and slightly ground some shredded coconut to make sand patches on top of the cakes.
Using melting white chocolates and molds, I luster dusted the pieces in gold, and topped each cake. The bride ordered the two large starfish and we topped the small top tier with those.

We decorated the table with extra "sand" mixed with graham crumbs and coconut. and we used real sea shells from Volusia beaches as well.

A Happy Bride And Guests

Everyone absolutely loved the display and the flavor of this seashell wedding cake. They assumed that it was an $800-$900 cake. This served about 100 people with leftovers! I was so proud and held my head up high.

P.S. It held up in the sun and heat perfectly!

That's a great story Amanda. You didn't let a little Florida heat and humidity scare you off Good for you. Thanks for entering the wedding cake contest. Don't forget to ask your friends and family to rate and comment.