Simply Magical
by Marcia
(Utah)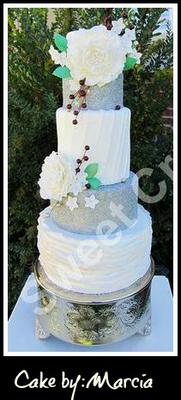 I don't have much experience with wedding cakes so this was an adventure for me. The bride didn't have a clue on what she wanted for her dream wedding and the only direction she gave me was she wanted a tall skinny cake with a lot of glitter. Her colors reminded me of a winter wonderland so I went with silver and white.


Gumpaste Flowers
For the flowers I decided to really step out of my comfort zone and make them for this cake. I used 50/50 gum-paste and fondant. I also added some tylose powder to my fondant. The balling tool came really in handy for these flowers. I also used the peony cutters by Chef Alan. I watched his video on making flowers a dozen times hoping to get it right. After the flowers were set I dusted over them with a silver and white mix of edible dusting powder. I wanted them to have that extra shine.
Glitter Tips
I wanted the cake to really have that glitter effect but it had to be 100% edible. I used the glitter made by Wilton. It was really easy to use. I covered my tier in piping gel and then slowly added all the glitter to the cake. I had to go over some spots a few times to get it fully covered. After attaching it all to my cake I painted over it with edible silver paint. That also helped keep all the glitter attached to my cake. I find the America Color brand gives me the best color with less paint.
The Wedding Cake Tiers
For the cake the bride chose to do 4 different flavors.
1st tier - Almond cake with apricot filling
2nd tier - Red Velvet with cream cheese filling
3rd tier - Lemon cream with blueberry filling
4th tier - Chocolate fudge with raspberry filling
Stacking The Cakes
When stacking my cakes I used the Wilton wood dowels for support on each tier along with a dowel going directly down the center of the cake. I wanted it really secure with transporting.
Ruffling Fondant
One of my favorite parts of the cake was the bottom tier. I had a lot of fun with the ruffling technique. For this I watched several videos to help me get started. I found them on the internet. One trick I learned to make it easier to achieve the ruffle is to roll your fondant paper thin, plus that helped with the weight of it. It took a long time to finish this tier but in the end was well worth it. The ball tool was my best friend, that and a lot of patience. After the tier was completely dry I used my thinnest paint brush and went over the edges with edible silver paint to give it a little more detail.
In the end I was pretty proud and happy with the cake and most important the bride loved it. It's a great feeling when you create something that makes someones day even more special. I can't wait to learn more techniques and create more cakes. I am really grateful for all the people who share their experience and tutorials that help us along the way.