An Amazing Tiered Cake Stand For Your Wedding Cakes


This amazing tiered cake stand is getting rave reviews!!!

Delivery is virtually stress free and your magnificent creations will be perfectly centered and level. Guaranteed!
Those are pretty good reasons to check these out.
Go to the Cake Stackers website.
"Wedding Cakes For You readers have started using this awesome cake stand because of my recommendation and are loving the way they make the process less stressful." ~Lorelie~

From this one set you can make various stands. Before you buy stands do yourself a favor and check out them out. Take a look and be amazed. (Watch the Video)

Make a rotating tiered cake stand or a decorating turntable out of the Stackers parts. The square stand out does them all, and you can use them for your topsy turvy designs like Athalia did (below)
Click
to see all the instructional videos
---
Reader Reviews

 Actual testimonials from visitors to this website.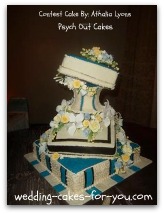 Looking for a square or topsy turvy tiered cake stand? Athalia's contest Topsy Turvy design was constructed using the square Stackers. You can read her review by clicking on this link.
She made her bride and groom friends very happy with her whimsical confection and was able to deliver it safely without a glitch on a 3 hour ride.
Here is what Mildred has to say about this tiered cake stand...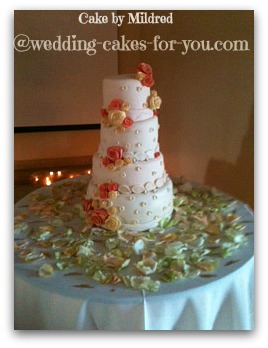 "I recently purchased the Cake Stackers tiered cake stand 12,10,8,6 inch series.This is the best invention ever to stack and deliver cakes! It took a bit of practice to assemble since it was my first time using it, but it is definitely a winner! "

Link to Mildred's contest entry with her story.
~Mildred Naples Florida~
---
Wedding Cakes For You-Review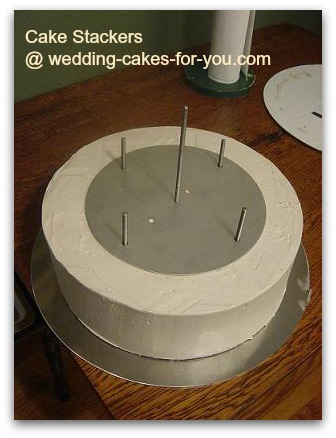 I ordered the Cake Stackers tiered stand system and tried it out this past weekend. I called first to ask some questions before actually placing my order. The voice on the other end was friendly and helpful. All of my questions were answered and he made me feel very comfortable.
I needed them within 5 days and they took care of getting it to me on time. I received the package and all of the pieces were there. I felt a little overwhelmed at first when looking at all of those pieces, but after watching the short how to videos I was able to figure it out very easily.
The picture above is the 14 inch bottom tier, it is sitting on a 17 inch base plate. The plate on top of the 14 inch cake is for the 10 inch cake to set on.
The metal plates are lightweight yet strong.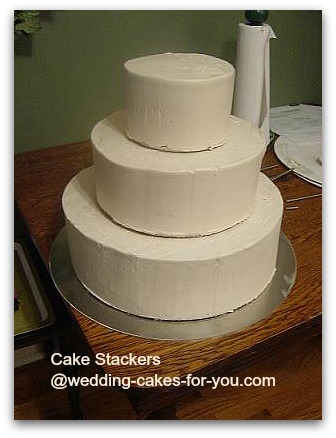 A fail proof way to center and level a cake
I have never had a cake so perfectly centered and level. It was was very stable during the delivery, which was a two and half hour drive. I had an issue with my fourth top tier (not shown in these pictures) but it had nothing to do with the Cake Stackers. I decided to add the tiny top tier (which I did not use the support structure for) onto the cake before delivering and stuck a dowel rod in through that tier and the one below. (in hindsight I should have waited and placed it onto the cake at the venue) As a result the tiny top started to breakdown and affected the tier below a little. Luckily we were able to remove the top tier during the ride up and fix the problem when we arrived.
I was concerned about getting all of the metal pieces back, so I took a deposit for the cost of the system, which was $141.10. including shipping cost. I got a prepaid and addressed UPS box and left it with the Wedding Planner. I explained to the wedding planner how to take it apart and instructed her to just place all of the pieces unwashed into the box, seal it up and ship it back.
I would say that the Stackers Tiered Support System is worth every penny and I am looking forward to using it again for my next creation.
The Finished Wedding Cake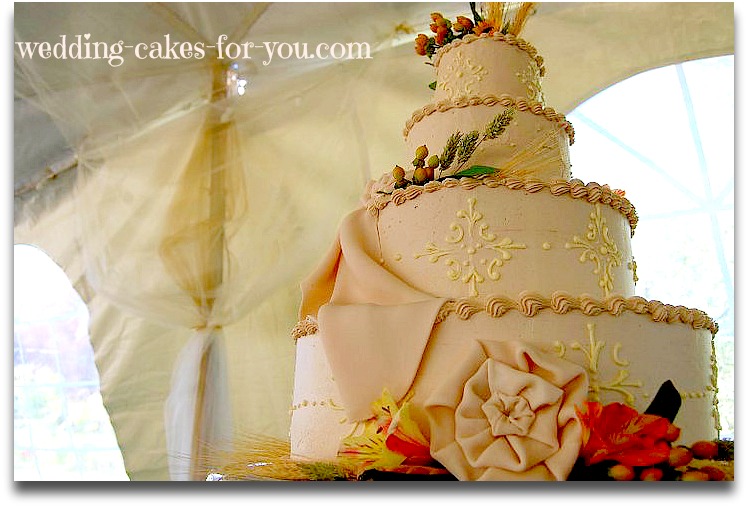 Some of the links on this page are affiliates. This means that I will receive a small commission if you purchase a product through them. There are no extra charges for doing so.  This helps me keep the information on this website free of charge. Because my name is attached and your satisfaction is very important to me, I only recommend products I have purchased or would purchase myself and which I believe you would benefit from. You can read the full disclosure policy by clicking the link.

This article was printed from Wedding-Cakes-For-You.com