Traditional wedding cake
by Luciano Fagnotti
(Rotterdam, The Netherlands)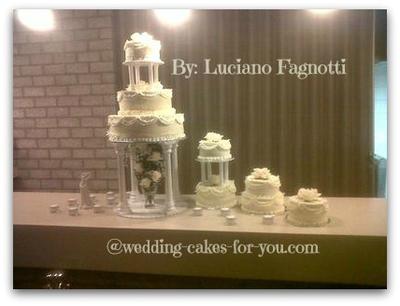 Good Old Fashioned American Style
To start off I really have to tell y'all that I just love the old school American traditional wedding cakes with the stairs and the fountains and all those little things. Here in The Netherlands that style isn't known at all and I really want to introduce it.


There was a couple at church who were getting married and they wanted to order a cake from me. When I showed them some pictures of fountain wedding cakes they were sold directly and they really wanted a cake in that style. I was so excited because it was my first professional wedding cake order ( I'm only 16 years old ).
A lot off people at church prayed for me and it worked because the cake came out beautiful and I was soooooo prouuuud!!
I really hope I will get more traditional wedding cake orders. I do think I will because everybody at church loved it!
Lorelie Says
; Luciano you did a fabulous job on this cake. WOW! I know how much goes into a cake like this. Well done! May you get many more orders from brides and grooms. I cannot believe you did this at 16 years. You have a special talent.
The bride and groom must have been thrilled with this very traditional and elegant wedding cake. You managed to make an amazing first professional design perfectly.
Here is a link to a few pages with
wedding cakes and fountains.
where you will see more examples of these very American style cakes.
A Stairway and

fountain design
with blue roses by Laura Leydig Maxey.