Transporting 4 tiered cakes.
by Christie
(Lacey wa)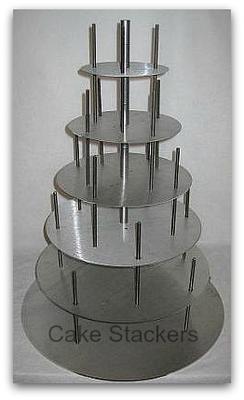 Cake Stackers metal Support System
Hello. My question is should I deliver my 4 tiered 16" 14"10" and 8" cake already stacked or should I stack it at the venue.


With it being so tall I am so nervous about this delivery . It will be my first 4 tiered cake. I would hate to have this fall during transport.
Hi Christie,
Delivering a wedding cake can be quite stressful.
Your cake is fairly large and heavy.
I prefer to stack the cakes and deliver them whole if possible. In your case I would seriously consider the Cake Stackers. They REALLY work and keep your cake stable for a smooth delivery. Much less stress.
Here is a link to one of my wedding cakes being constructed with these wonderful cake supports. You will have to LIKE my
Facebook
page first to see them though :-)
Here is the direct link to the
photo album
. The cakes in the example are 14 10 and 6 inch.
Check out the videos at the Cake Stackers website too. Click on the logo above and go straight to their page. You will be amazed as she even hold a cake upside down to show you how supportive they are.
If you decide not to get them then I would not suggest delivering the cake in one piece. Box up each cake separate and bring them to the hall. Stack and dowel the cakes on site. You will need to bring frosting for borders and decorating.
As an alternative you could stack the 16 and 14 inch tiers and then add the 10 and the 8 inch cakes once it is set up.
Good luck with your first four tier wedding cake delivery. Please update us and send a photo of your finished cake. Thanks for visiting and asking a GREAT question.
Share your cake here on the contest/sharing page.