Vintage Wedding Cake
by Kortney McCune
(Arizona)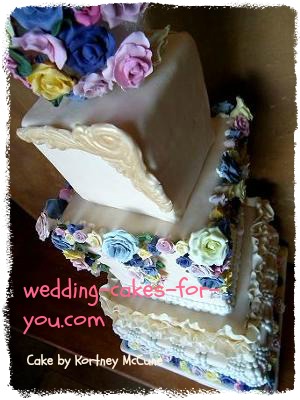 Vintage Wedding Cake
I absolutely loved working on this vintage wedding cake! It's my new favorite wedding cake design!


The client gave me a few guidelines, but other than that I was given artistic freedom. She wanted to have something romantic and vintage-y (two things I love!) I decided on some basic things such as ivory colors, pearls, and roses.
Fondant Roses and Leaves
As you can see there are oodles of fondant roses. They are all handmade. I wanted the colors to bleed out (like real roses) So I just added little bits of white to the original color for each row of petals. I rolled out the leaves on a veining mat. The detail really is what makes it all come together.
Fondant Pearls
TIP:
The pearls are also fondant. I actually just got a mold for it (way easier than rolling all those little pearls by hand, I would have never finished) then I painted them with white pearl dust. I put on one row of pearls then put on another that overlapped a bit.
Fondant Ruffles
Glue Tips
The ruffles are just strips of fondant that are sort of bunched up as you "glue" (use vodka or vanilla) I use vodka. Sometimes if I need something stronger I dissolve gum paste in vodka to make a syrup-y mixture)
After the ruffles were all on I decided they needed something to make them stand out a bit more, so I brushed gold pearl dust on the tops of the ruffles. Then I needed something to help tie in the gold. That's where the gold decorative piece at the top came in. I used a mold I had recently purchased but hadn't had the time to use it. And as you guessed I painted it with gold pearl dust.
I wasn't sure where I was heading with this vintage wedding cake, but I like where I ended up. Can't wait for my next wedding cake! Thank you so much for looking!
Back to Top