50th Wedding Anniversary Cake
by Mildred
(Naples, Fl)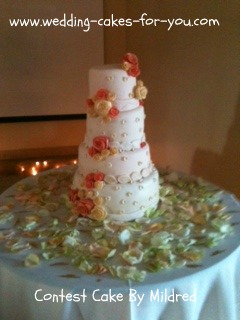 This is my parent's 50th wedding anniversary cake and this is a story of the 50 year wedding cake in the making.


I invested several months making this for a very special couple. I decided to make this "wedding cake" for them because they literally got married all over again.
I was very excited about making this delectable creation because they are two of the most special people in my world. Despite ups and downs in their life, they are the most giving people I know.
My parents touch the lives of all the people that they meet. My father had open heart surgery 5 years ago shortly after his mother and sister passed away due to heart disease and diabetes.
My mother also had a heart condition shortly after. It has been difficult times for our family with these and other traumatic events. Therefore, my siblings and I organized a beautiful event that celebrated their life together and a new beginning to another 50 years.
Flavors
The 4 tiers are made with vanilla layers covered in fondant made from scratch and lightly tinted in a soft ivory. The bottom tier was filled with a tropical fruit compote, next tier was filled with lemon curd, third and fourth tier were filled with Dulce De Leche(condensed milk that is cooked down to a paste)
Tips
The roses are all handmade by me with a mixture of fondant and gum paste. I made several in pink and painted several coats with a mixture of gold luster dust and vodka.
Always let the flowers dry completely before applying another coat. Also, mixing the gumpaste with the fondant made the flowers look silky and more refined.
I baked the cakes and covered them in buttercream 3 days in advance, then covered the cakes with fondant a day before the event.
Cake Stackers Fan
This cake traveled with me from Naples, Fl to Miami, Fl. which is about 1 and 1/2 hour ride. This was the most nerve wrecking drive of my life!! I could not have done it without the
Cake Stackers.
I stacked the 2 bottom tiers at home and took the other 2 in separate boxes and assembled them at the venue. I created a fondant border for each tier at the venue after stacking the cake completely. The flowers I arranged once the stacking was finished.
My parent's loved their 50th wedding anniversary cake and all the guests raved about the flavors, most popular was the Dulce De Leche filling.