A Chef When I Grow Up...
by Sarah Atkinson
(Splendora Texas)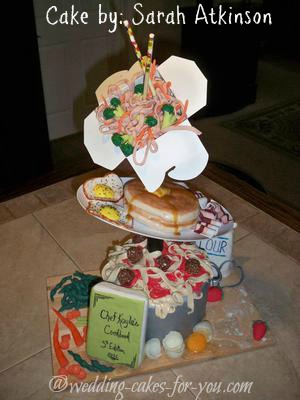 A Chef Party
My 5 year old's FAVORITE play pastime is pretending to cook. When her birthday came around, she requested a "Chef" party.
Many Intricate Layers
I went all out, starting with a cutting board base that held fondant green beans & carrots, a white chocolate cracked egg shell, where a fondant yolk swam in piping gel to resemble the raw egg.
A fondant cookie cutter was painted silver & Placed on some "dough rolled out & ready! Finishing our accessories on the bottom where a bag of flour from RKT & a cookbook, ("5th Edition of course!) Written by Chef Kayla! (My baby girl!)
The bottom base was a giant spaghetti pot, painted silver & complete with handles, and Ferrero Roche "meatballs". The cake itself was chocolate with classic southern buttercream. The middle "layer" was the best meal of the day!
Banana Pancakes
Breakfast pancakes were made from banana cake & hand carved. Fondant bacon & eggs framed the plate well & was finished off with precious addition of black sugar crystal "pepper" on the eggs & a healthy pat of "butter" drizzled in REAL syrup!
Chinese Takeout Anyone
The top was Chinese take out, some Lo Mein Noodles with bits of fondant Carrot & Broccoli accessorized with green non-perils. Only the cutting board, white breakfast plate & chopsticks & takeout box weren't edible.
My Inspiration
She was in heaven when she saw it! My self taught cake skills are inspired by my two girls who are the loves of my life!