Custom Search

Big Wedding Cakes


Bold and Beautiful
Big wedding cakes for your momentous day! Brides!!! Capture the energy and excitement of your wedding day with a flamboyant statement.
Cake Decorators!!! If you are interested in cake decorating classes and learning how to make larger cakes. Check out my new eBook or go to the cake decorating classes (link at the bottom of the page)
Large Scale Cake Recipes Are Here: Extravagant wedding cake recipes for you are included in the book. The tried and true chocolate or white wedding cake recipe will make many tiers of lusciousness. All are perfect for your colossal creations. Links to those pages are at the bottom of this page.
One Of The Biggest Wedding Cakes

This is one of the largest wedding cakes in the world. It can be viewed at a museum in Budapest.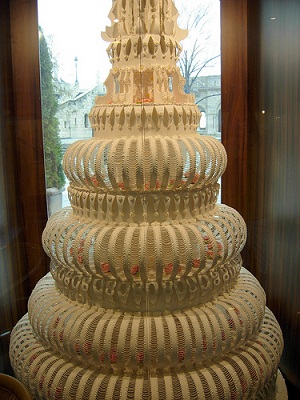 Photo courtesy of thestylepa on flickr

Here are the ingredients and the amount of labor it takes to make this marzipan beauty!

Giant Wedding Cake

1400 eggs

84 liters of cream

34 kg sugar

40 kg flour

28 kg chocolate

15 kg decorating mass

54 kg sugar covering

250 marzipan roses
Total weight 250 kg  

Prep time 250 hours

---

Eight Tiered Cake

Now THIS is a bold and big wedding cake, yet still maintains an elegant feeling.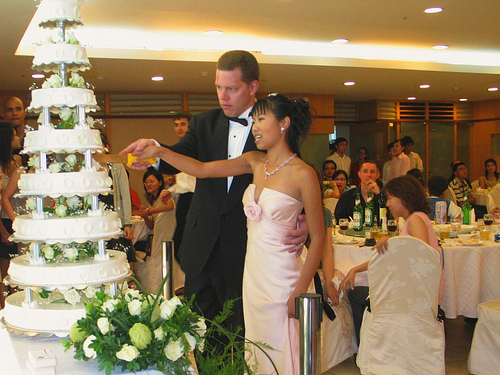 photo courtesy of Maoman, on Flickr


A Square Wedding Cake

This square wedding cake is also very elegant even though it is quite large. The candles are a nice addition and give it a romantic feeling.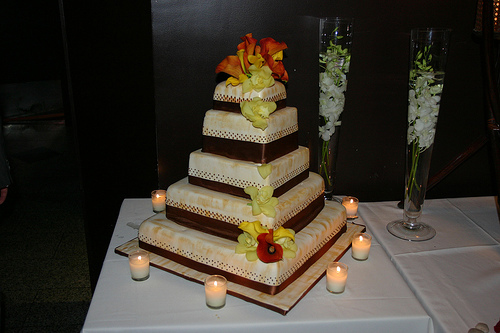 photo courtesy of killrbeez, on Flickr

About Large Wedding Cakes

Large wedding cakes can be challenging to construct. The champagne glasses are one way to raise a cake, but it does have risks. Hot glue between the glasses and the cake bases would probably do the trick.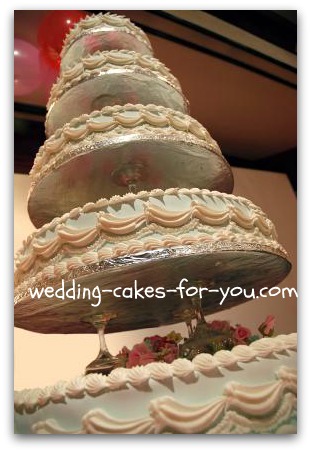 I would consider anything over 4 tiers to be a large wedding cake. A 16 or 18 inch base is a good place to start for creating a big bold look. Go to my prices guide page to see a chart on tier sizes and how many portions you can expect with each.
Recommended For Big Wedding Cakes

I use Cake Stackers for my larger wedding cakes. They really are fantastic. You can adjust the layers to be perfectly straight even though they may not be perfect. They also will be centered and travel safely with much less stress.

---
If you like large wedding cakes check out these pages

---

For the best tried and true cake recipes click on the white wedding cake

Cake decorating classes information