Blanche The Sea Turtle Cake
by Dani Startt
(Cumming, GA, USA)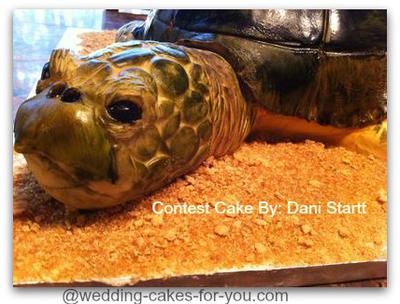 Blanche's Face : Detail
Intro To The Birthday Girl


Laurel, our friend's little girl, is quite an amazing person. Each year I'm excited to see what theme she chooses for her birthday party.
She never picks typical girly ones, like princesses. No,
she's a fun, kind, science-minded genius
and I adore her for it. Her dad is an amateur astronomer, and she has her own telescopes, along with other exploratory tools.
We visited a museum with her family recently, and in the gems minerals exhibit she pointed out
a large chunk of amethyst, saying she thought it would make a good subject for a cake.
(OK, I'm game! Lets do that next!)
A Swimming / Sea Turtle Rescue Party
For Laurel's 7th birthday, she hosted a swimming party, and requested that her guests bring
donations to a Sea Turtle Rescue organization
instead of bringing her gifts. I wanted to show my appreciation for her selflessness and generosity by making her cake EXTRA special that year.
No Cartoonish Cakes Please
My favorite sort of cakes are cones that don't look like cake. In the past I've made many of them, an alligator, Jabba The Hutt, a corset, a machine with a fly all governor, the Stanley Cup, a fire helmet, a wooden trunk, a Brachiosaurus, buildings, Curious George, Winnie The Pooh, and Slimer from Ghostbusters.
So, when Laurel asked if I could do a turtle, and further clarified that she'd prefer a realistic version, rather than a cartoonish one, I became very excited and inspired. I surprised myself with the final product, and it made the birthday girl very happy. Lauren's sea turtle might be my favorite cake that doesn't look
like one.
It's Edible
The party guests weren't sure what to think of this creature from the deep. Nobody seemed to realize it was a edible. People thought it was a sculpture. The best part of the entire event, for me, was the picture that Laurel's mom snapped of her holding a plate with a chunk of turtle on it. The expression on her face is priceless. It made me smile for days.
Tantalizing Flavors For Kids Cakes
The body/shell of the turtle is all made with my "Gimmie S'More" flavor made from my chocolate recipe, marshmallows, graham crackers, chocolate ganache, and chocolate buttercream. The flippers, neck, and head were made from Rice Krispy Treat covered in modeling chocolate. The turtle is surrounded by graham cracker "sand."
A Little Behind The Scenes
This creation was both airbrushed in yellows and browns, and dry dusted with various petal dusts, primarily Moss Green, Forrest Green, Cocoa, and Charcoal Black.
The shell is hand painted, and shows the streaky fans of color in each section of the turtle's shell. The texture of the turtle's skin was both molded using a cobblestone impression mat, and hand sculpted using sculptor's tools. The face is entirely hand-done. It took a good deal of time to get the face just right.
At first the "beak" was too big and Blanche looked like a duck.
Once it was all put together, and sitting on my kitchen table, it looked so real I thought it might move.
I named her "Blanche" just because it seemed to fit her. It really was my pleasure to make this life-like creation for this sweet, smart, and generous little girl.